Fourth annual Climate Leadership Summit set in Goshen
---
Read more:
---

Earth Charter Indiana, along with title sponsors the McKinney Family Foundation, are partnering on Indiana's fourth annual gathering of mayors and city and county officials to discuss resiliency in the face of climate impacts. The event takes place Thursday, Sept. 12, from 8:30 a.m. to 5 p.m. at Goshen College, in Goshen, Indiana.
Sponsors include Aluminum Trailer Company, Borden Waste-away, Cardno, Indiana Citizens Climate Lobby, Christopher B. Burke Engineering LLC, the Community Foundation of Elkhart County, Cummins, The Electric Brew, Elkhart County Convention and Visitors Bureau, Emnet, Indiana University Grand Challenges Prepared for Environmental Change, Solar Energy Systems LLC, Merry Lea Environmental Learning Center, Goshen, College, NIPSCO, Notre Dame University, Purdue Climate Change Research Center, Singer Wealth Advisory of Raymond James, SESCO Group, who are assisting in staging this free summit to highlight climate adaptation and mitigation at a local level, both municipal and county.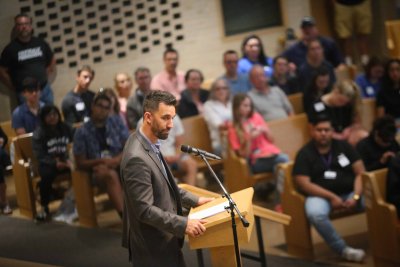 • Mayors expected at press time: Richard Hickman (Angola), Jeremy Stutsman (Goshen), David Kitchell (Logansport), Phil Jenkins (Napanee) and Mark Senter (Plymouth).
• Numerous cities are sending a representative or even a delegation of officials and community leaders. Those cities include: Batesville, Bloomington, Bristol, Clarksville, Huntington, Michigan City, Muncie, Shipshewana, South Bend, Wabash and West Lafayette.
Given historic flooding in northern Indiana in 2018, Earth Charter Indiana immediately seized upon Goshen Mayor Jeremy Stutsman's offer to host this year's conference in his city. The emphasis will be on flooding, stormwater infrastructure and climate modeling for Indiana's cities and towns, with presentations by Purdue Climate Change Research Center, Dr Alan Hamlet (Notre Dame University) and Siavash Beik (Christopher B. Burke Engineering), among others.
For the first time, Climate Leadership Summit has invited a keynote speaker to part of the programming. Dr. David Orr, author and visionary, will share a talk called "Hoosiers in a hotter less Democratic Time …. Unless!" Orr in 2010 created the Oberlin Project, whose mission was to revitalize the local economy, eliminate carbon emissions, restore local agriculture, food supply and forestry, and create a new, sustainable base for economic and community development. He had great success with the Oberlin Project – and wants to share with Hoosier leaders what they can do to make their municipalities more efficient and climate friendly.
Highlights of the day also include:
• Afternoon breakout sessions on Environmental Resilience Institute's Hoosier Resilient Index
• Sustainable development codes
• Implementing flood resilient strategies and financing water infrastructure projects
• Youth action
• Urban canopy
• Using municipal public policy case studies on the Sustainable Development Code
•  Workshop showcasing Michigan City's recent establishment of a Sustainability Commission
"Each year, more and more cities participate in this Summit. Indiana is clearly waking up to the climate crisis," says Jim Poyser, Executive Director of Earth Charter Indiana. "And each year, I believe this Summit gives mayors and municipal and county officials more tools in which to both mitigate and adapt to climate impacts."
"Goshen is known and wants to be known for being future thinkers with sustainability in mind," says Paul Steury, CLS4 event coordinator and environmental educator and ecological contractor for the City of Goshen. "That's why they passed a climate action resolution thanks to the Goshen youth, why they want 45% tree coverage within the city limits by 2045, and why they just created a Department of Environmental Resiliency.  That's why they wanted to host this Summit – to help promote statewide action via municipalities."