Large scale photography on display in Hershberger Art Gallery
Exhibit: "Here and There: Large Scale and Intimate Views in Photography," from the collection of Rick and Cindy Burns
Reception Date and time: Sunday, Sept. 1 at 2 p.m., Artist Talk at 2:30 p.m.
On display: June 2 - Sept. 15, 2019
Location: Goshen College Music Center's Hershberger Art Gallery
Cost: Free and open to the public
---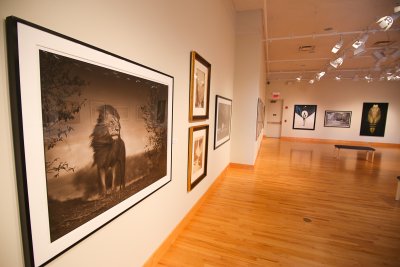 An exhibit featuring large scale photography from the private collection of local collectors Rick and Cindy Burns is on display in the Hershberger Art Gallery this summer, with a reception on Sunday, Sept. 1 at 2 p.m., and an artist talk to follow at 2:30 p.m. The exhibit and reception are free and open to the public.
"Here and There" represents timely moments captured in a variety of approaches in the global community of shadows and light. The work is on display June 2 through Sept. 15, 2019.
This exhibit features an incredible sampling of world-class photographers who have worked or are now working in the United States. In this age of cell phone cameras and social media, the ability for anyone to participate as an image maker and chronicler of their time is in sharp technological contrast to the careful and trained eye of the artists and photographers represented in this show.
This exhibit features work by Berenice Abbott (1898-1991), Clyde Butcher (b. 1942-), Nick Brandt (b. 1966-), Adam Fuss (b. 1961-), Jerry Uelsmann (b. 1934-), Bradford Washburn (1910-2007) and others.
Rick and Cindy Burns have been passionately acquiring works of photography which embrace their view of life and their interest and love for adventure travel to remote and challenging landscapes where most ordinary folk would not attempt. As a talented documentary photographer himself, Dr. Rick Burns turned his collecting "eye" to those works by photographers of the 19th and 20th centries who made pictures about places he and his wife Cindy have visited.
The Hershberger Art Gallery is located in the north lobby of the Goshen College Music Center at College Avenue and 12th Street in Goshen, Indiana and is open on weekdays from 9 a.m. – 4:30 p.m.