The Summit: The Manhattan Transfer meets Take 6 April 13
Performing Arts Series Concert: The Summit: The Manhattan Transfer meets Take 6
Date: Saturday, April 13, 2019
Time: 7:30 p.m.
Location: Goshen College Music Center's Sauder Concert Hall
Tickets: $55, $50, $40 | Tickets can be purchased online at goshen.edu/tickets or  through the Goshen College Box Office (574-535-7566, boxoffice@goshen.edu)
---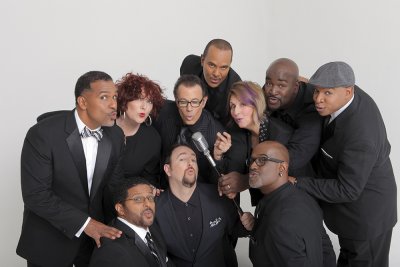 Historic jazz ensemble The Manhattan Transfer teams up with the world's most-awarded acapella group, Take 6, for a performance in Goshen College Music Center's Sauder Concert Hall Saturday, April 13 at 7:30 p.m.
Each group brings ten Grammy awards and a rich history of impressive performances to the stage. Unlike other music co-bills or meetings, The Manhattan Transfer and Take 6 were not content to perform a set and simply join each other for a finale. They have created musical moments on-stage – singing and performing nearly a dozen songs together – during this show.
As The Manhattan Transfer mark the 40th anniversary of their debut recording on Atlantic Records, Janis Siegel, Alan Paul and Cheryl Bentyne will honor founding member Tim Hauser, all as they continue to tour with their newest member, Trist Curless.
The Manhattan Transfer joins Take 6 to share their crystal clear harmony, innovative arrangements and funky grooves, demonstrating why this sextet is recognized as the preeminent a cappella group in the world.
Take 6 was founded by Claude McKnight at Oakwood College. Their self-titled debut CD won over jazz and pop critics, scored two 1988 Grammy Awards, landed in the Top Ten Billboard Contemporary Jazz and Contemporary Christian Charts — and over 25 years later they are in even greater demand. They earned performances on Saturday Night Live, the Oscars, the Grammys, and have had the honor of performing for four sitting U.S. Presidents, and at the Democratic National Convention.
Tickets are $55, $50, $40 and can be purchased through the Goshen College Box Office (574-535-7566, boxoffice@goshen.edu) or online at www.goshen.edu/tickets.
Future concerts in the Performing Arts Series include:
Monday, April 22, 2019, 7:30 p.m. - Straight No Chaser
Saturday, May 18, 2019, 7:30 p.m. - Arturo Sandoval