Siblings, pianists, advocates: The 5 Browns coming to Goshen College
Performing Arts Series Concert: The 5 Browns
Date: Saturday, Dec. 15, 2018
Time: 7:30 p.m.
Location: Goshen College Music Center's Sauder Concert Hall
Tickets: $45, $40, $30.  Purchase tickets online or through the Goshen College Box Office (574-535-7566, boxoffice@goshen.edu)
---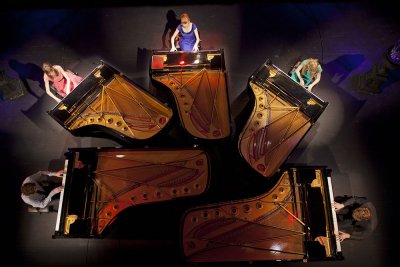 The 5 Browns, described by the New York Post as "one family, five pianos and 50 fingers that add up to the biggest classical music sensation in years," will bring their fresh energy and five pianos to Goshen College's Sauder Concert Hall stage Saturday, Dec. 15 at 7:30 p.m.
The five Juilliard-educated siblings, Ryan, Melody, Gregory, Deondra and Desirae, perform all together, individually or in various combinations. They have released seven albums; three of which went to #1 on Billboard Magazine's Classical Album Chart.
The 5 Browns tour extensively and have performed in Carnegie Hall's Isaac Stern Auditorium, Grand National Theater in China, Suntory Hall in Japan and, in the United States, The Kimmel Center in Philadelphia, Symphony Hall in Chicago and Alice Tully Hall in New York City and have collaborated with orchestras around the world.
The group has been covered by media outlets such as Good Morning America, The Today Show, The New York Times, People, the Sunday London Telegraph and Entertainment Weekly. They were also featured in a PBS TV special, "The 5 Browns in Concert" and are the focus of Director Ben Niles' documentary Digging Through Darkness.
Deondra and Desirae created and run the Foundation for Survivors of Abuse, a tool to educate the general public and state legislators of the unjust laws regarding statutes of limitation for crimes of sexual abuse. They are involved in a nationwide media campaign to highlight these important issues and promote victims' rights.
Tickets are $45, $40, $30 and can be purchased through the Goshen College Box Office (574-535-7566, boxoffice@goshen.edu) or online at www.goshen.edu/tickets.
Upcoming concerts in the Performing Arts Series include:
Friday and Saturday , Feb. 1 & 2, 2019, 7:30 p.m. - Imago Theater presents FROGZ!
Tuesday, Feb. 19, 2019, 7:30 p.m. -Seraphic Fire with American Brass Quintet
Wednesday, Feb. 27, 2019, 7:30 p.m. - Academy of St. Martin in the Fields