Four senior art majors to display work
Reception: Senior art exhibit
Date and Time: Saturday, March 24, 3 p.m.
Location: Hershberger Art Gallery, Music Center
Cost: Free and open to the public
---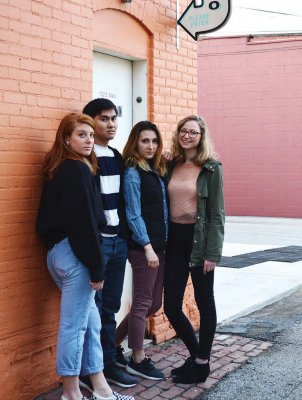 Four Goshen College senior art majors will show their work in the Music Center's Hershberger Art Gallery, with an opening reception on Saturday, March 24 at 3 p.m. The exhibit runs through April 29, 2018.
The artists include:
Jill Steinmetz, from Bluffton, Ohio, will show her graphic design and hand lettering pieces that play into the theme,"Designing a Better World." She is passionate about using her talents and skills to make a positive impact on others and the world and hopes to explore this topic through a mixture of type and illustration.
Caitlyn O'Neal, from Russiaville, Indiana, will show work that includes pairs of paintings and ceramics that are a tribute to her twin sister, Carley, and their journey as twins, sisters and best friends. She hopes her work will help demonstrate the similarities and differences of her twin sister and herself. She uses vibrant colors in her pieces and incorporates an expressionistic and spontaneous style.
Maddy Keener, from Lancaster, Pennsylvania, uses portraits of women as subject matter to challenge assumptions and constraints of femininity. By combining traditionally feminine colors and floral patterns with portraits evoking strength, determination, and introspection, her art subverts stereotypes without discounting femininity. Her work seeks to validate the multidimensionality of women, especially since many historical paintings portray them as idealized objects rather than as powerful subjects.
John Schrock-Shenk, from Goshen, attempts to bridge the gap between 2D and 3D art, balancing graphic design and sculpture while differentiating art and design. His sculpture pieces are a collection of abstract, functional and aesthetic pieces, with a diagonal and circle motif which ties them together. His graphic design pieces are minimalist and draw on more practical uses of art within the marketing and business world.
Each artist will take a few minutes to comment on their culminating work, and will be available for questions during the reception.
The Hershberger Art Gallery is located in the Music Center and is open from 9 a.m. to 4:30 p.m. Monday through Friday, and from 2 to 4 p.m. Saturday and Sunday. The building is accessible to people using wheelchairs and others with physical limitations.