Current and retired Goshen College art faculty members to display work
Exhibit: Current and Retired Faculty Gallery Exhibition
Exhibit Dates: Nov. 19, 2017 through Jan. 21, 2018
Reception Date & Time: Sunday, Nov. 19, 2017, 2 p.m.
Location: Hershberger Art Gallery, Music Center
---
Current and retired Goshen College art faculty members will display their work during a special exhibit from Nov. 19, 2017 through Jan. 21, 2018. A reception will take place Sunday, Nov. 19, at 2 p.m. in the Music Center's Hershberger Art Gallery.
The exhibit includes works by retired faculty emeriti Marvin Bartel, John Blosser, Abner Hershberger and Judy Wenig-Horswell and current faculty Randy Horst, Merrill Krabill and John Mishler.
The Hershberger Art Gallery is located in the Music Center and is open from 9 a.m. to 4:30 p.m. Monday through Friday, and from 2 to 4 p.m. Saturday and Sunday. The building is accessible to people using wheelchairs and others with physical limitations.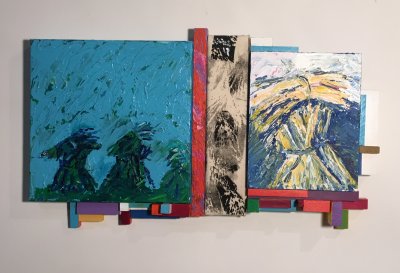 Abner Hershberger, now in his 80s, has been creating multimedia paintings, sketches, silk-screen prints and watercolor paintings for decades. After graduating with an art degree from Goshen College in 1960, he earned a master's degree in teaching from Indiana University in 1965 and a Master of Fine Arts from the University of Michigan in 1970. He taught art at Goshen College for a total of 34 years and spent 25 years as the chair of the art department. Today, Hershberger and his wife, Anne, live in Goshen where he continues to produce, show and sell his artwork.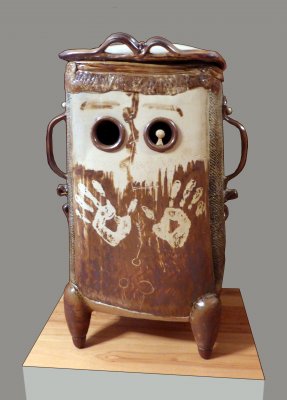 Marvin Bartel was a member of the art faculty at Goshen College from 1970 through 2002. He taught courses in art education, ceramics, photography, drafting and architectural design. Bartel continues as a consultant, lecturer, workshop and seminar leader in art education and in creativity education. He continues to be an active artist, writer, and traveler. Bartel has a master's degree and doctoral degree in art education from the University of Kansas. He majored in art at Bethel (Kan.) College, also studying art at Washburn University and Wichita State University. He also taught drawing, painting, and design at Bethel College (Kansas) and headed the creative arts at Prairie View Mental Health Center, Newton, Kansas.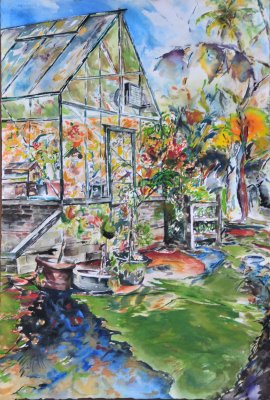 John Blosser has drawn, painted and taught for over thirty years, in at least four different countries and five different states. He was the Goshen College Art Department chair and taught courses in drawing, painting and printmaking from 1999-2011. He previously taught at Hesston (Kan.) College (1978-99); Garden Valley Collegiate, Winkler, Manitoba, Canada (1975-78); Macha Mission Secondary School, Zambia, Africa (1972-74) and Whitko High School, S. Whitley, Indiana (1972-73). Blosser holds a Master of Fine Arts degree in drawing from Arizona State University, Tempe, has exhibited in numerous regional and national shows and is represented in over 40 private and public collections.
Judy Wenig-Horswell taught jewelry making, drawing, design, humanities and art history at Goshen College for 34 years, and helped lead arts in London for many years. After graduating from Bowling Green University with a bachelor's degree, she went on to earn a Master of Fine Arts degree in 1970. While teaching art classes at Northridge High School, she started teaching evening studio classes at Goshen College before transitioning full time as a sabbatical replacement for Professor Emeritus of Art Abner Hershberger in 1976. Throughout her educational career, Wenig-Horswell participated in several workshops and art studies including ceramics workshops in Colorado and Japan, jewelry workshops in Denmark and Tennessee and art study in the Ivory Coast.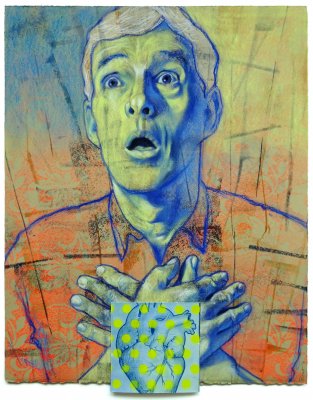 Randy Horst is a 1979 graduate of Hesston (Kan.) College and a 1983 graduate of GoshenCollege with a degree in art education. He has an M.F.A. in drawing from Bowling Green (Ohio) State University. He has taught art at Bowling Green State University, the University of Montana Western (Dillon), and currently teaches at Goshen College. In addition to studio courses Randy also teaches Art History and has led numerous trips to France, Italy and Spain. Horst has also worked professionally as a graphic designer, serving as the art director for both Mennonite Mutual Aid and Great Harvest Bread Company.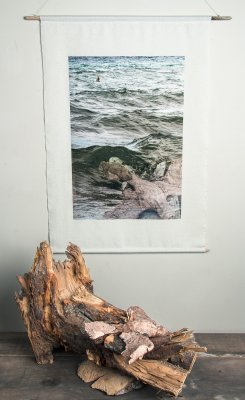 Merrill Krabill teaches ceramics and photography classes, among others. His ceramic education began under Marvin Bartel as a student at Goshen College, where he graduated in 1979. He earned a Master of Fine Arts degree from Claremont Graduate University in 1976, where he studied under legendary ceramicist Paul Soldner. Krabill taught art at Bethel (Kan.) College from 1989-2001, and has taught at Goshen College from 2001 to the present. In July 2005, he served as artist-in-residence at Togei no mori (Shigaraki Ceramic Cultural Park), in Shigaraki, Japan.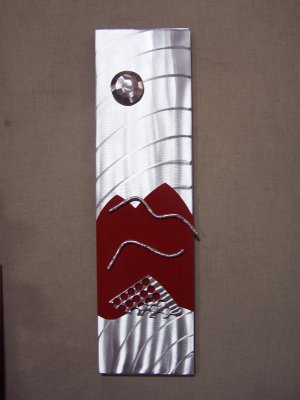 John Mishler is a nationally-renowned sculptor who specializes in the use of the common metals including aluminum, copper, steel and stainless steel to create both abstract and symbolic woks of art. Mishler is a 1972 graduate and, after earning his Master of Fine Arts degree from the University of Tennessee in 1977, he returned to Goshen, and has been teaching at Goshen College since 1985. Many of Mishler's outdoor pieces incorporate kinetic energy and have moving parts that turn with the wind.