Genre-bending string trio Time for Three to play Goshen College Nov. 5
Concert: Time for Three
Date: Sunday, Nov. 5, 2017
Time: 7:30 p.m.
Location: Goshen College Music Center's Sauder Concert Hall
Tickets: $40, $35 or $25 (Buy tickets online)
---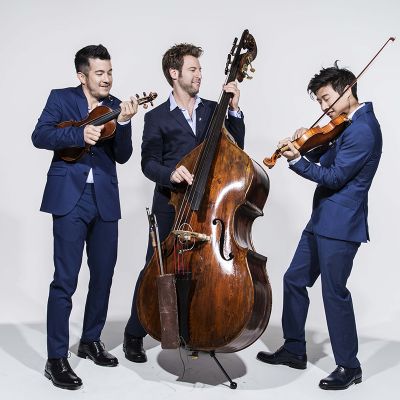 The groundbreaking, category-shattering string trio Time for Three (Tf3) will perform at Goshen College on Sunday, Nov. 5 2017 at 7:30 pm. For this special Performing Arts Series concert, Tf3 will be joined by the Goshen College Symphony Orchestra for a portion of the concert.
With elements of classical, country western, and jazz idioms, Time for Three transcends traditional classification, forming a blend all its own. Tf3's high-energy performances are free of conventional practices, drawing instead from the members' differing musical backgrounds.
The American trio performs music from Bach to Brahms and beyond as well as playing their own arrangements of everything from classic bluegrass, folk and rock jams to ingenious mash-ups of hits by Kanye West, The Beatles, Katy Perry, Justin Timberlake and more.
The trio consists of Violinist Nicolas Kendall, Violinist Charles Yang and double-bassist Ranaan Meyer. Each group member carries a versatility in their way of playing, creating free conventional practices on improvisation and drawing from each one of their unique music backgrounds. The trio met at the Philadelphia Curtis Institute of Music, where they discovered a mutual love for bluegrass and country traditions. Later in their music careers, they took their unique sound one step further to create Time for Three. The trio's happy and infectious performances have expanded its unique repertoire within the symphony orchestra world and beyond.
Tickets are $40, $35 or $25 and can be purchased through the Goshen College Box Office (574-535-7566, boxoffice@goshen.edu) or online at www.goshen.edu/tickets.
Be sure to look out for more upcoming events in the performance series:
Tuesday, Nov. 14, 2017, 7:30 p.m. - The Knights
Friday, Dec. 8, 2017, 7:30 p.m. - Chanticleer
Friday, Feb. 9, 2018, 7:30 p.m. - Yamato: The Drummers of Japan
Saturday, March 3, 2018, 7:30 p.m. - The Chieftains
Sunday, April 15, 2018, 7:30 p.m. - The Wailin' Jennys
Thursday, June 7, 2018 - Audra McDonald (this performance has been moved from Feb. 23, 2018, due to a  last-minute conflict with Ms. McDonald's filming schedule for the CBS All-Access series The Good Fight. We apologize for the inconvenience.)