Visit Goshen College during Indiana Private College Week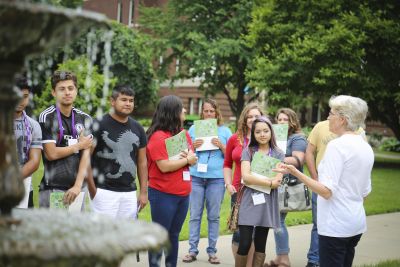 Campus Open House: Indiana Private College Week
Date and time: July 18-22, 2016, 10 a.m and 2 p.m.
Location: Goshen College
Cost: FREE
---
Indiana's 31 private, non-profit colleges and universities—including Goshen College—are opening their doors to students, parents and any others interested in the college selection process during Indiana Private College Week, July 18-22.
During that week, Goshen College will offer campus tours each day at 10 a.m. and 2 p.m., and visitors will have a chance to set up a meeting with the admissions office.
Individual visits are also available throughout the year. Contact the Goshen College admission office at admission@goshen.edu, 800.348.7422 or 574.535.7535. For more information, visit www.goshen.edu/visit.
According to Independent Colleges of Indiana (ICI), the organization hosting the weeklong event, Indiana's private colleges are the "smart choice" because:
Availability of financial aid: More than 90 percent of students at Indiana's private colleges receive one or more types of financial aid (state, federal, institutional aid, and/or special scholarships), making a private college education affordable and often no more expensive (and sometimes even less so) than a state university.
Personal attention: Class size at Indiana's private colleges and universities averages 14 students to one professor, and graduates are more likely to report that they are "highly satisfied" with the quality of their education.
Opportunities for leadership: With smaller and more personal learning environments, there are more opportunities for students to be involved in extracurricular activities of all sorts, further developing their leadership skills.
Higher graduation rates: Students at Indiana's private, non-profit campuses are twice as likely to graduate in four years as students at other types of institutions.
Visitors between the ages of 16 and 20 touring ICI campuses during Private College will have the chance to enter a drawing for a Microsoft Surface or Apple iPad mini tablet. Entry forms and rules will be available at each campus.
A complete list of participating campuses, event schedules, and registration information is available at icindiana.org/page/InPrivateCollegeWeek.