Merry Lea to host a nature play day June 14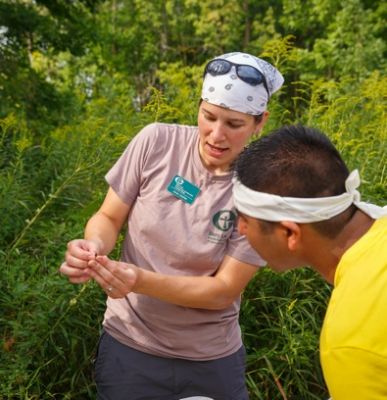 What: Nature play day
Date and time: Tuesday, June 14, 1-6:30 p.m.
Where: Merry Lea Environmental Learning Center of Goshen College, Wolf Lake, Indiana
Cost: Free and open to the public
---
Merry Lea Environmental Learning Center of Goshen College in Wolf Lake, Indiana, will host a Nature Play Day on Tuesday, June 14, 1 to 6:30 p.m. Families can take a wild edibles hike, dip for macroinvertebrates in a vernal pond, make a nature craft and explore on their own.
Years ago, every June day was a "nature play day." Kids grew up catching snakes, skipping stones at the nearby pond and making sticks and grass into their own special creations.
Today, screens dominate many children's lives and the vital bond between humans and nature fails to form. That's why the Indiana Children and Nature Network (ICAN) is encouraging Indiana organizations to offer Nature Play Days between June 11 and 19. The events will connect children, families and communities with the natural world.
One unique feature of Merry Lea's play day is the chance to learn how to build a campfire. "Fire building is a skill that many children don't get a chance to learn anymore," observes environmental educator Jane Litwiller who will lead the activity.
The day will end with campfire. Families are invited to bring roastable food and enjoy a supper cooked outdoors.
A schedule and registration form are available on Merry Lea's website. There is no charge to attend.