Chamber ensemble Baroque Identity to present Rieth Chamber Series concert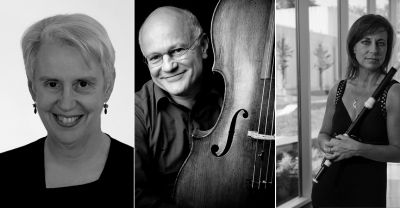 Concert: Rieth Chamber Series: Baroque Identity
Date and Time: Saturday, April 2, 2016, 7:30 p.m.
Location: Goshen College Music Center's Rieth Recital Hall
Cost: $10 general admission, available online or by calling (574) 535-7566. GC faculty/staff/students free with valid ID
---
Baroque chamber music ensemble Baroque Identity will present a recital in Goshen College Music Center's Rieth Recital Hall on Saturday, April 2, part of the 2015-16 Rieth Chamber Series. The concert will begin at 7:30 p.m.
The newly formed ensemble Baroque Identity brings together three internationally acclaimed specialists in Historical Performance: Jaap ter Linden baroque cellist/gambist, Lisa Goode Crawford, harpsichord, and Kathie Stewart, baroque flute/recorder. Representing the Royal Conservatory of The Hague in Amsterdam, Oberlin Conservatory, and Apollo's Fire, the members hold a significant resumé of critically-acclaimed performances, recordings and publications.
Baroque Identity's program will include works by Georg Phillip Telemann, Jean-Philippe Rameau, Giovanni Benedetto Platti, Jean-Marie Leclair and Carl Friedrich Abel.
Tickets are $10 general admission, available online at goshen.edu/tickets or by calling (574) 535-7566. Goshen College faculty, staff, and students are free with valid ID.
Jaap ter Linden, baroque cellist, gambist, conductor and Early Music pioneer, is best known for his two recordings of the Bach Cello Suites and the complete Mozart Symphonies. He has performed with every major baroque ensemble in Europe, and he teaches at the Royal Conservatory of The Hague in Amsterdam.
Lisa Goode Crawford, harpsichordist and emerita professor at the Oberlin Conservatory of Music, has given solo and ensemble performances throughout the United States and Europe. Her extensive recordings include music of François Couperin, Bach, Rameau, Le Roux and Pancrace Royer, and she has published a scholarly edition of Le Pouvoir de l'Amour by Royer.
Kathie Stewart, baroque flute and recorder, is principal flutist in Apollo's Fire: the Cleveland Baroque Orchestra, with which she has recorded extensively, and is curator of harpsichords at the Oberlin Conservatory.
The Rieth Chamber Series features seven concerts by outstanding organists and chamber music ensembles, plus a bonus concert with reception for series subscribers only. Music Center Executive Director Marcia Yost explains that series supporters "will provide support for ongoing, accessible classical chamber music at Goshen College, as well as aid in establishing a reputation with performing artists for appreciative Music Center audiences." More information about this series is online at gcmusiccenter.org/events/rieth-chamber-series/