Eric Yake Kenagy Visiting Artist Lecture: Painter Linnéa Spransy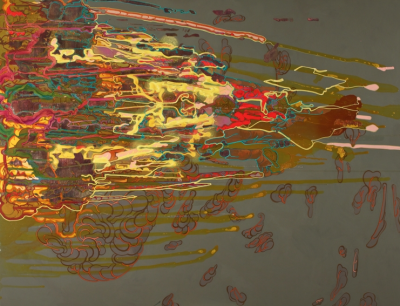 Eric Yake Kenagy Visiting Artist Lecture: "Linnéa Spransy" by Linnéa Spransy
Date and time: Sunday, April 3, 3 p.m.
Location: Goshen College Music Center's Rieth Recital Hall. A public reception will take place immediately after the lecture in the Music Center's Hershberger Art Gallery.
Cost: Free and open to the public
---
Linnéa Gabriella Spransy, a Los Angeles-based watercolor artist, is the Goshen College Art Department's 2016 Eric Yake Kenagy Visiting Artist. She will deliver a public lecture on Sunday, April 3 at 3 p.m. in the Goshen College Music Center's Rieth Recital Hall, with a reception immediately following in the Music Center's Hershberger Art Gallery. The presentation and reception are free and open to the public.
Linnéa Spransy is an artist with a deep curiosity about life, relationships and spirituality. Her abstract paintings, drawings and installations are the result of a creative and complex dialog between expressive choices, transforming accidents and automatic operations.
"Using strict rules, I construct images on the belief that limits have an eerie capacity to generate surprise… even freedom," she said. "Chaos and emergent system theory tell us that these limits need not be elaborate, or even obviously visible; in fact, it is often the most humble and self-evident limits, which, in time, behave in the most sophisticated ways. Working this way, I have become convinced that intelligence can be essentially understood as the ability to create or recognize pattern; perhaps patterns themselves are a form of intelligence."
Spransy has a B.F.A. in drawing from the Milwaukee Institute of Art and Design and an M.F.A. in painting from Yale University School of Art. She has exhibited widely both nationally and internationally, has received numerous awards, and her artwork can be found in the collections of both museums and corporations.
"Every piece I make is a manifestation of a pre-determined scheme – a system of small limits with a clear beginning and end," Spransy said in a 2012 interview. "I write out a recipe composed of what I call modules [a combination of number and letter forms]; it's very time-consuming. The only total freedom I allow myself is with the color choices. The system and I will make something, but there is also a high level of uncertainty."
The Eric Yake Kenagy Visiting Artist Program honors the late Eric Yake Kenagy, who was a gifted ceramics student at Goshen College from 1984 until his death in 1986.