Don't worry, be happy: Bobby McFerrin returning to Goshen College for Valentine's Day concert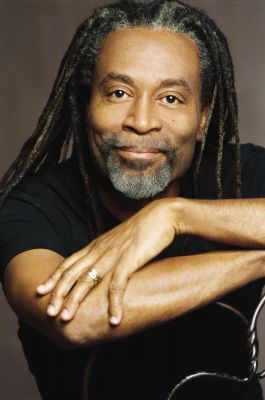 Concert: Bobby McFerrin
Date: Sunday, Feb. 14, 2016
Time: 4 p.m.
Location: Goshen College Music Center's Sauder Concert Hall
Cost: $65, $60, $44
---
According to Howard Reich of the Chicago Tribune, "there are essentially two categories of singers in this world: Bobby McFerrin and everyone else."
McFerrin, known for his 1988 global hit "Don't Worry, Be Happy," will make his second appearance at Goshen College for a Valentine's Day Performing Arts Series concert on Sunday, Feb. 14, at 4 p.m. in the Music Center's Sauder Concert Hall.
For decades Bobby McFerrin has broken all the rules. The 10-time Grammy winner has blurred the distinction between pop music and fine art, goofing around barefoot in the world's finest concert halls, exploring uncharted vocal territory, inspiring a whole new generation of a cappella singers and the beatbox movement. Beyond words, beyond genre, beyond expectations, McFerrin incorporates a world of influences to create a primal, universal sound with the original instrument – the human voice.
Since his first visit to Goshen in 2009, McFerrin has been sharing his free-spirited sound with fans all over the world. McFerrin has toured as a soloist, but is also known for collaborating with other artists such as percussionist Jack Dejohnette, renowned trumpeter Wynton Marsalis, cellist Yo-Yo Ma and most recently with jazz pianist Chick Corea.
With an extensive album list, his most recent album "spirityouall" was released in 2013, McFerrin's vocals have been captivating listeners since his self-titled debut album in 1982.
Very few tickets for this concert remain. Tickets cost $65, $60 and $44 and can be purchased at the Goshen College Welcome Center, by calling (574) 535-7566, or emailing welcomecenter@goshen.edu.