Artist Beatriz Vasquez on the cutting edge of papel picado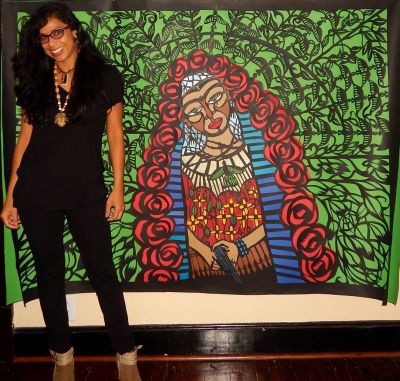 Exhibit: Beatriz Vasquez: papel picado with a modern twist
Dates: Sunday, Jan. 31, 2016 – Sunday, March 13, 2016
Reception date and time:  Sunday, Jan. 31, artist talk at 2 p.m., reception from 3-4:30 p.m.
Location: Music Center's Rieth Recital Hall (artist talk), Hershberger Art Gallery (reception)
Cost: Free and open to the public
Sponsored by the Goshen College Art Department and Center for Intercultural and International Education.
---
Indianapolis artist Beatriz Vasquez's paper designs will be on display beginning Jan. 31 through March 13 in Goshen College's Hershberger Art Gallery. An artist talk will take place Sunday, Jan. 31 at 2 p.m. in the Goshen College Music Center's Rieth Recital Hall, with a reception following from 3-4:30 p.m. in the Hershberger Art Gallery. The exhibit, reception and talk are free and open to the public.
Vasquez is a self-taught master of the art of papel picado, a traditional Mexican and South American folk art using tissue paper cut into elaborate and precise designs. It is commonly used when celebrating festivities and religious occasions.
"My desire to create is innate and derives from a long line of artisans and craftsmen," Vasquez said. "Working with my hands has always been important to me."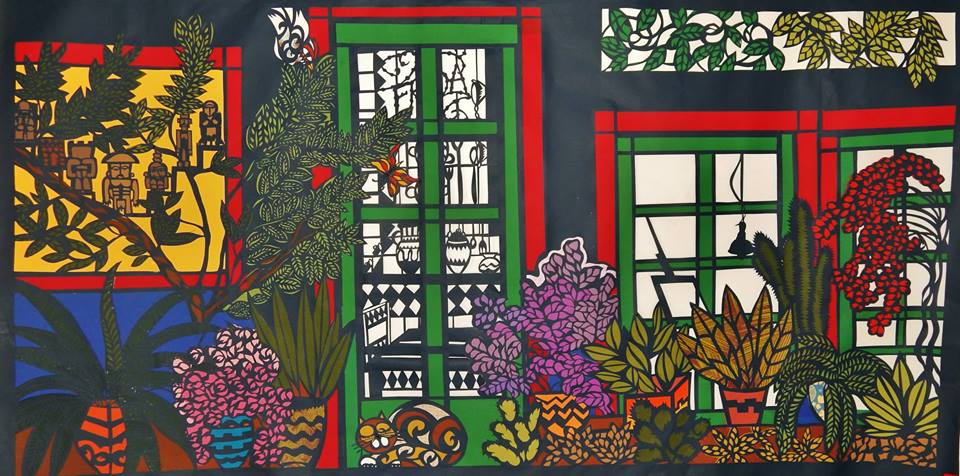 The daughter of Mexican parents and Spanish grandparents, Vazquez was born in Brownsville, Texas, and grew up in Matamoros, Mexico. She moved to Indianapolis with her parents to seek out a better education. There she attended IUPUI and received a Bachelor of Fine Arts degree from Herron School of Art and Design in 2006.
In 2009, she traveled to Matamoros, Mexico to reconnect with family and to do extensive research on indigenous Mexican crafts. Her research took her to Monterrey, Mexico, where she rediscovered the art of papel picado.
"I hadn't realized it before then, but it had always been a part of me, it was all around me, in the markets, churches, fiestas and in my childhood memories," Vasquez said. "After learning the traditional method of making papel picado, I began a journey to innovate the art. I began cutting paper, any and all kinds of paper grade, colors, textures and sizes. Paper became my obsession."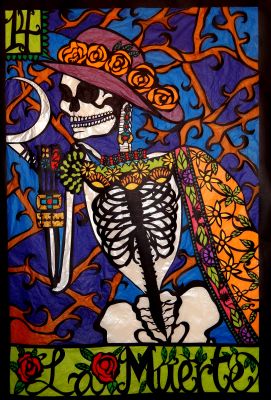 During the next few years, Vasquez taught herself to use an X-acto knife as if it were a pencil.
"As I perfect my skill I have learned to let my designs guide my paper cutting by focusing on the negative and the positive spaces to create with a single piece of paper," Vasquez said. "My designs flow directly from my mind's eye onto the paper itself."
Her work has journeyed into the fashion world, where she has created wearable paper art, including eyelashes, gloves, hats and evening gowns. Many of her designs have been featured in fashion magazines and on runways.
Her work has been featured in UnZip Fashion Magazine, Pattern Fashion Magazine, The Harrison Center for the Arts, Indianapolis Art Center in Broad Ripple, Highball Fashion Show in Columbus, Ohio, Latino Arts in Dayton, Ohio, Indiana State Museum, Eiteljorg Museum, Indiana Historic Society, in Indianapolis Public Libraries and Indianapolis Public Schools, and in many galleries.