'Los Valientes' to examine the lives of three heroic Latinos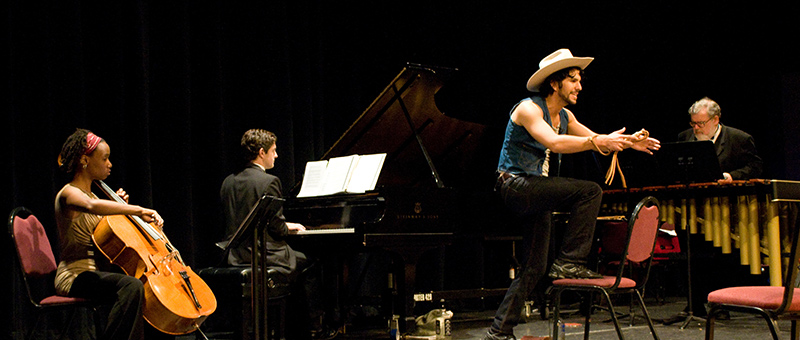 Concert: Los Valientes: The Courageous Ones – A Chamber Music Theatre Work
Date: Tuesday, Oct. 27, 2015
Time: 7:30 p.m.
Location: Goshen College Music Center's Sauder Concert Hall
Cost: Free and open to the public

In celebration of Hispanic Heritage Month, Goshen College will host a performance of Los Valientes, a live music theatre work, on Tuesday, Oct. 27 at 7:30 in the Goshen College Music Center's Sauder Concert Hall. The event is free and open to the public.
Los Valientes explores the artistic and political passions of Mexican painter Diego Rivera, the unwavering commitment to human rights of Salvadoran Archbishop Oscar Romero, and the pursuit of social justice by Mexican American desperado Joaquin Murrieta aka Zorro. All three characters are played by actor Kevin Melendez, with accompanying musicians from the Core Ensemble on cello, piano and percussion.
Archbishop Oscar Romero, who served in San Salvador, is most well known for speaking out against crimes against the poor. He is remembered as a martyr, assassinated for speaking out against the Salvadoran government's treatment of its residents.
Known as the Mexican Robin Hood and as the inspiration behind the fictional character Zorro, Joaquin Murrieta came to infamy in California in the 1850s. As the story goes, Joaquin's family was murdered by miners during the gold rush, and he turned to a life of crime in order to avenge their deaths and help others in need.
Diego Rivera, a painter and political activist, is widely known for his relationship with Frida Kahlo, but his political murals and canvases are celebrated in his home of Mexico and all over the world.
"Los Valientes" was written by José Cruz González. González has written for PAZ, the Emmy Award nominated television series produced by Discovery Kids for The Learning Channel, and was a recipient of a 2004 TCG/Pew National Theatre Residency grant. In 1997 he was awarded a NEA/TCG Theatre Residency Program for Playwrights, and in 1985 was a NEA Director Fellow. He teaches theatre at California State University at Los Angeles. He is a member of The Dramatists Guild of America and TYA/USA. He is an Associate Artist with Cornerstone Theater Company (California), and Playwright in Residence with Childsplay (Arizona).