Silk Road Ensemble to bring a multicultural performance to Goshen College March 7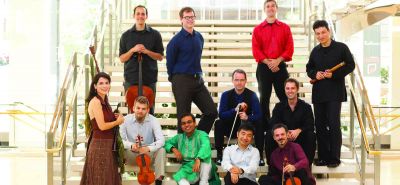 Performing Arts Series Concert: Silk Road Ensemble
Date and time: Saturday, March 7, 2015 at 7:30 p.m.
Location: Goshen College Music Center's Sauder Concert Hall
Cost: $44/$40/$28
For tickets or information: Visit www.goshen.edu/tickets, call (574) 535-7566 or email welcomecenter@goshen.edu
Website: www.silkroadproject.org
The Silk Road Ensemble's multicultural music will fill Sauder Concert Hall on Saturday, March 7 at 7:30 p.m. in the next installment of Goshen College's Performing Arts Series.
Formed under the artistic direction of Yo-Yo Ma in 2000, the Silk Road Ensemble unites performers and composers from more than 20 countries. The group's exploration of modern musical crossroads led The Boston Globe to call them "a kind of roving musical laboratory without walls." Their innovative and collaborative approach celebrates the multicultural reality of the contemporary world.
The Silk Road Ensemble has premiered more than 80 original pieces and released five albums. From New York's Carnegie Hall to Japan's World Expo, they have performed in 119 cities in 30 countries across Asia, Europe, and North America.
The ensemble presents a wide range of repertoire in their performances, which The Seattle Times called "a cornucopia of musical ideas." The performers play instruments from musical traditions around the world, including the erhu (Chinese bowed lute) and the Gaita (Galician bagpipe).
The group takes inspiration from the historical Silk Road, employing the trade routes as a metaphor for sharing and learning across cultural art forms in the modern world.
Tickets are now on sale for $44, $40 and $28. Tickets are available online at www.goshen.edu/tickets or through the Goshen College Welcome Center by calling (574) 535-7566, or emailing welcomecenter@goshen.edu. Purchase soon, as only a few tickets remain for this performance.
Seating for those with disabilities is available. Tickets are nonrefundable.
The Goshen College Performing Arts Series debuted on Sept. 21, 1997. Since then, the college has hosted more than 100 concerts by some of the world's greatest performers as part of the program.