Professor's love of Andean music builds bridges in community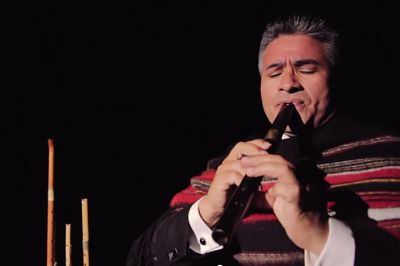 After moving to Goshen several years ago, Nayo Ulloa, Goshen College adjunct professor and professional Andean flute player, and his wife, Heather, have been finding ways to merge Latino culture into the broader community.
This weekend, Ulloa will perform in a concert called Discovering the Americas: a Diverse Journeys Concert, at St. Adalbert's Church in South Bend at 4 p.m. on Nov. 9. This is the North American premiere of the first concerto written for quena, the Peruvian flute, and symphonic orchestra. (See ticket information here)
The concert features "Concierto Sinfonico Machu Picchu" for Andean Flute, by Jaime Diaz Orihuela of Lima, Peru, along with other music from Peru and Mexico. Ulloa will be accompanied by the Vesper Chamber Orchestra. A pre-concert lecture begins at 3:30.
Watch a video of Ulloa performing "Machu Picchu" on the quena
Raised in Lima, Peru, Ulloa expressed an interest in music at an early age. When he was 10 years old his father gave him his first guitar, and at age 13 he began playing the quena. Ulloa studied quena and music theory and harmony with several accomplished Peruvian musicians before coming to the United States in 1981 to perform and teach Peruvian music. He taught at the Community Music Center in San Francisco and other private music schools.
While in the United States, Ulloa has continued his own music education. He studied opera for four years and performed several roles with the San Francisco regional opera company. He graduated from San Jose State University with a master's degree in music.
The Ulloa family moved from San Jose to Goshen about three years ago and has become involved in the community, with special interest in bridging the gap between Latinos and others in the Goshen area. Music is one way to do this, along with language classes and plans for a Latin American culture center in Goshen.
Ulloa teaches Latino arts, literature and Spanish at Goshen College, and Heather is a Spanish language interpreter at IU Health Goshen Hospital. Ulloa says that their goal in providing these language classes is to create a space where "both English and Spanish speaking communities can come together and share their cultures."
– By Katie Hurst