Conspirare, vocal ensemble, returns to Goshen College Sept. 21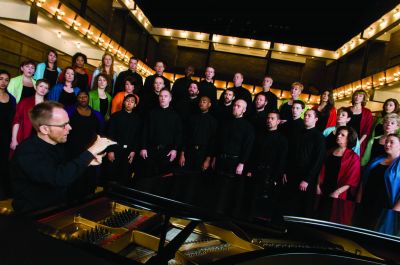 Performing Arts Series Concert: Conspirare
Date and time: Sunday, Sept. 21, 2014 at 4 p.m.
Location: Goshen College Music Center's Sauder Concert Hall
Cost: $40/$35/$23
For tickets or information: A very limited number of tickets remain. Visit www.goshen.edu/tickets, call (574) 535-7566 or email welcomecenter@goshen.edu
Website: conspirare.org
Conspirare, hailed as the "best choir in the U.S.," will make its second appearance in Goshen College's Sauder Concert Hall on Sunday, Sept. 21 at 4 p.m. as part of the college's Performing Arts Series. 
Conspirare, a choral ensemble based in Austin, Texas, first visited Goshen College in 2010. The group has garnered rave reviews, Grammy nominations and international recognition for its artistry, virtuosity and expressive singing. Conspirare combines classics with contemporary works, delighting audiences with its innovative sound and mosaic of music and poetry. According to the ensemble's website, conspirare means "to breathe together," derived from the Latin words con and spirare.
Conductor Craig Hella Johnson, who founded the group in 1991, leads this group of professional singers from around the country. The Wall Street Journal commended Johnson's ability to "find the emotional essence other performers often miss." Designated the official Texas State Musician for 2013, he is renowned for the knowledge, artistic sensitivity and creativity he brings to the art of choral conducting.
Composer Andrew Sigler called Conspirare "a seasoned group of musicians performing at an extremely high level," noting that the singers "could probably sing the phone book and sound fantastic."
Tickets are now on sale for $40, $35 and $23. Tickets are available online at goshen.edu/tickets or through the Goshen College Welcome Center by calling (574) 535-7566, or emailing welcomecenter@goshen.edu. Purchase soon, as only a few tickets remain for this performance.
Seating for those with disabilities is available. Tickets are nonrefundable.
The Goshen College Performing Arts Series debuted on Sept. 21, 1997. Since then, the college has hosted more than 100 concerts by some of the world's greatest performers as part of the program.
–  By Kate Yoder