Reception: Sunday, September 21, 2-4 pm, Hershberger Art Gallery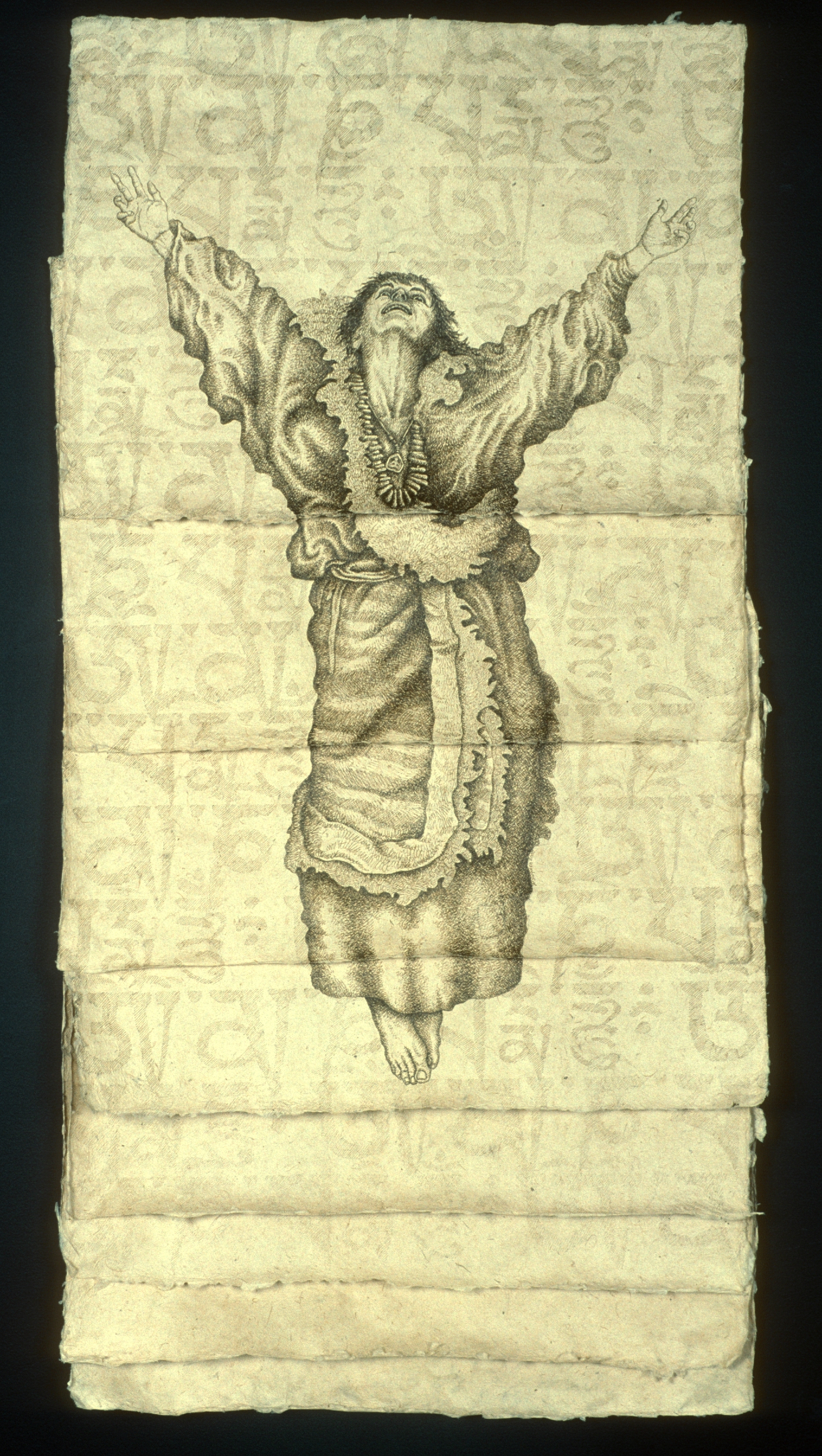 Exhibit description:
Pages from the Manual on Dismantling God: Ink and gouache on twenty-one, 16" x 20" sheets of handmade Himalayan Daphne paper.
Both in creating and in viewing them, these pages investigate the possibilities of breaking down the dichotomy between oneself and the "other" by compelling the viewer to "read" the visual language intuitively. This helps to promote an inner dialogue between a viewer and the work. In this manner, the mind is more likely to move naturally toward the unfolding present, where one's preconceptions, biases, and mental/emotional baggage cannot cloud the experience. Also included in the exhibit will be other larger works.
Artist Bio:
Philip Sugden formally studied in Paris under French master, Arnaud D'Hauterives, (winner Grand Prix de Rome). Since graduation from the New York School of Visual Arts and the Paris American Academie des Beaux Arts, Sugden has made twelve journeys throughout the Himalaya and Tibet creating drawings on location.
For six-months in1988, he and his wife were guests of His Holiness the Dalai Lama, during which time they completed research for a PBS documentary, and Philip completed 160 ink drawings on location. Based on their experiences in Tibet and the Tibetan refugee communities in India and Nepal, they were awarded grants from the Ohio Arts Council and the National Endowment for the Humanities, to create a PBS presentation and companion book (Snow Lion Publ.) entitled, White Lotus.
In 1991, the Dalai Lama was their guest for two days in their home near Findlay, Ohio, where the Dalai Lama also made a visit to Phil's studio.
In 2000, Philip's drawings were published in a large format book entitled, Visions from the Fields of Merit.
His work has been shown in more than two-hundred exhibitions in museums and galleries internationally, including New York, Los Angeles, London, Paris, Washington DC, Melbourne, and Kathmandu. If you would like to learn more about Philip and his work please visit his webpage at www.philipsugden.com