The Fort Wayne Philharmonic to perform at Goshen College April 11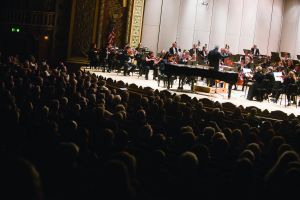 Performing Art Series Concert: Fort Wayne Philharmonic
Date and time: Friday, April 11, 2014 at 7:30 p.m.
Location: Goshen College Music Center's Sauder Concert Hall
Cost: $33, $30, $18, $10 choral terrace. Only a few tickets remain for this performance.
For tickets or information: Visit www.goshen.edu/tickets, call (574) 535-7566 or email welcomecenter@goshen.edu
Website: www.fwphil.org
The Fort Wayne Philharmonic is coming to Goshen College for a dazzling program as part of the Performing Art Series, which will take place in the Music Center's Sauder Concert Hall on April 11 at 7:30 p.m. 
The concert will include Barber's First Symphony, A Concerto for Flute and Clarinet by Puckett, and Beethoven's beloved Fifth Symphony. Performing since 1924, the "Phil" is led by Music Director Andrew Constantine, and is known as a leader in the region for promoting the arts.
Born and educated in Britain, Andrew Constantine gained acclaim as a skillful and charismatic conductor, and in 2004 he moved to the United States to become assistant conductor of the Baltimore Symphony Orchestra. In 2009 he was appointed music director of the Fort Wayne Philharmonic.
On a mission to inspire and foster a lifelong love of classical music through performance and education, the Fort Wayne Philharmonic's recent collaboration with Goshen College has resulted in three exciting workshops and concerts this spring and will lead to ongoing collaborations in educational outreach and performance.
Tickets are now on sale for $40, $35, $23 and $10 for the choral terrace. Tickets are available online at www.goshen.edu/tickets or through the Goshen College Welcome Center by calling (574) 535-7566, or emailing welcomecenter@goshen.edu. Only a few tickets remain for this performance.
Seating for those with disabilities is available. Tickets are nonrefundable.
The Goshen College Performing Arts Series debuted on Sept. 21, 1997. Since then, the college has hosted more than 100 concerts by some of the world's greatest performers as part of the program.