Merry Lea to host birding weekend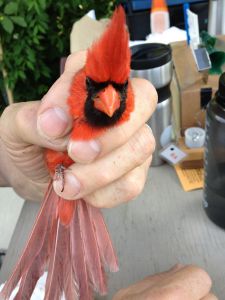 Event: Merry Lea's Midwest Birding Expedition
Dates: April 25–27, 2014
Location: Merry Lea Environmental Learning Center of Goshen College
Cost: $225, which includes lodging at Merry Lea's Rieth Village, guiding and five meals
Experienced and aspiring birders alike will have an opportunity to seek out their favorite feathered friends during Merry Lea's Midwest Birding Expedition on April 25 to 27 at Merry Lea Environmental Learning Center of Goshen College. The 1,189-acre nature center includes a diverse array of ecosystems, which makes it an ideal spot for spring birdwatching.
Merry Lea's Midwest Birding Expedition typically travels out of state, but this year's birding stay-cation at Merry Lea offers several advantages: more time for birding, more time for ornithology instruction and the chance to participate in Merry Lea's bird banding research.
Merry Lea participates in the Monitoring Avian Productivity and Survivorship (MAPS) program, a continent-wide effort to monitor bird demographics organized by the Institute for Bird Populations. Twice weekly during the summer months, researchers monitor mist nets and record data on the birds captured. With training, it is possible to tell the age, sex and condition of each bird. Birds are then banded and released.
This year's Midwest Birding participants will have a chance to join the bird banding team and experience the awe of holding live birds in their hands or taking close-up photographs of captured birds.
"I'd really love to be able to show people our cerulean warblers," said Lisa Zinn, who heads up Merry Lea's bird banding program. "It is not common to see this tiny sky-blue bird because they live in treetops and their numbers are declining, but they do nest at Merry Lea."
Zinn will co-lead the weekend along with Paul McAfee, a lifelong birder and bird photographer.
Woodcock displays are another spring highlight at Merry Lea. This bird's discreet plumage keeps it well hidden, except during mating season when the males perform spectacular aerial displays to attract females.
The group will also travel to other birding hotspots in the region. Eagle Marsh, near Fort Wayne, Ind., and Pisgah Marsh, near Pierceton, Ind., are on the list of places to visit. Eagle Marsh is a favorite spot for McAfee, who is a former director of the Little River Wetlands Project, which acquired Eagle Marsh in 2005. Eagle Marsh is a 716-acre wetland preserve with eight miles of trails. It is the site of one of the largest wetland restorations undertaken in the state of Indiana. As for Pisgah Marsh, birders have spotted 290 species at this quiet and lightly traveled location.
The registration fee of $225 includes lodging at Merry Lea's Rieth Village, guiding and five meals. Rieth Village is a platinum-rated LEED® facility will many interesting earth-friendly features.
One meal is at your expense at a local restaurant. To register, email jenniferhs@goshen.edu, find a registration form at http://merrylea.goshen.edu/ or call 260-799-5869. Please register by April 15.