The Legendary Count Basie Orchestra to perform at Goshen College April 5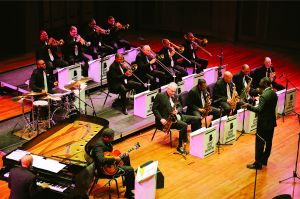 Performing Art Series Concert: The Legendary Count Basie Orchestra featuring New York Voices
Date and time: Saturday, April 5, 2014 at 7:30 p.m.
Location: Goshen College Music Center's Sauder Concert Hall
Cost: $44, $40, $28
Tickets: Available online at goshen.edu/tickets or through the Goshen College Welcome Center, (574) 535-7566 or welcomecenter@goshen.edu
Website: www.basieband.org
The Legendary Count Basie Orchestra and New York Voices will unite to recreate the magic that won them the 1996 Grammy Award for their inspired collaboration, "Live at Manchester Craftsmen's Guild," as part of the Performing Arts Series on April 5, 2014 at 7:30 p.m. in Goshen College's Sauder Concert Hall.
Despite Basie's passing in 1984, his orchestra has remained a force in jazz music and has won 17 Grammy Awards. Currently under the direction of Dennis Mackrel, the famed orchestra remains one of the most elite performing organizations in jazz.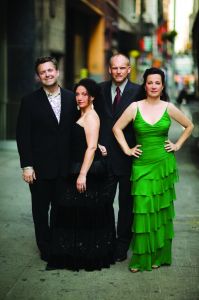 The New York Voices are known for their inspired arrangements and unparalleled vocal blend, having refined their musical story to a fine art. With deep interests rooted in jazz, Brazilian, rhythm and blues, classical and pop, their music mixes traditional sensibilities with more than a dash of the unexpected.
Tickets are now on sale for $44, $40, $28 and are available online at goshen.edu/tickets or through the Goshen College Welcome Center by calling (574) 535-7566, or emailing welcomecenter@goshen.edu.
Seating for those with disabilities is available. Tickets are nonrefundable.
The Goshen College Performing Arts Series debuted on Sept. 21, 1997. Since then, the college has hosted more than 100 concerts by some of the world's greatest performers as part of the program.