Benefit concert for Ukraine to take place March 22 at Goshen College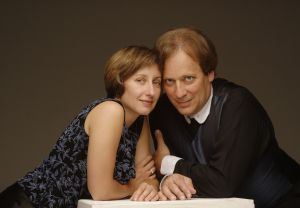 Concert: A Benefit Concert for Ukraine: Solomia Soroka, violin, and Arthur Greene, piano
Date and time: Saturday, March 22, 2014, 7:30 p.m.
Location: Rieth Recital Hall, Goshen College Music Center
Cost: A free-will offering will be held; suggested donation of $10 per person
Goshen College music professor and violinist Solomia Soroka and pianist Arthur Greene will present a benefit recital on behalf of the people of Ukraine on Saturday, March 22 at 7:30 p.m. The recital will be held in the Goshen College Music Center's Rieth Recital Hall.
Soroka, a native of Ukraine, and Greene, Soroka's husband and a professor of piano at the University of Michigan, will present works by Ukrainian composers Maxim Berezovsky, Mykola Lysenko and Myroslav Skoryk.
Admission to the concert is free, but donations will be accepted. There is a suggested minimum donation of $10 per person. All proceeds from the concert will be donated to foundations that benefit victims and families of those killed and injured in the current Ukrainian conflict.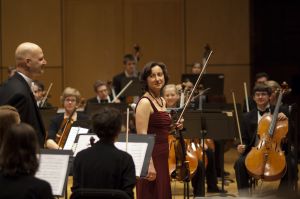 Violinist Solomia Soroka, born in L'viv, Ukraine, is among the most accomplished Ukrainian musicians of her generation. She won top prizes in three prestigious international violin competitions held in the former Soviet Union – the Prokofiev, Lysenko and Zolota Osin' competitions. Soroka earned her master's degree summa cum laude and completed postgraduate studies in the Kyiv Conservatory, and later served on its faculty in the chamber music department. She also has a D.M.A. degree from the Eastman School of Music. Soroka has toured and recorded extensively with her husband, pianist Arthur Greene. Their Naxos recording of Four Violin Sonatas by William Bolcom was selected as a Recording of the Month with the highest ranking for both artistry and sound quality by Classics Today, and received positive reviews in various journals. Soroka is currently a violin professor at Goshen College.
Born in New York, Arthur Greene studied at Juilliard with Martin Canin. Greene has performed with the Philadelphia Orchestra, the San Francisco, Utah and National Symphonies, the Czech National Symphony, the Tokyo Symphony and many others. He has played recitals in Carnegie Hall, the Kennedy Center, Moscow Rachmaninov Hall, Tokyo Bunka Kaikan, Lisbon Sao Paulo Opera House, Hong Kong City Hall, concert houses in Shanghai and Beijing, and has toured Japan and Korea many times. He was an Artistic Ambassador to Serbia, Kosovo and Bosnia for the United States Information Agency. He has been on the faculty of the University of Michigan School of Music since 1990. Greene was a gold medal winner in the William Kapell and Gina Bachauer International Piano Competitions and a top laureate at the Busoni International Competition.
News coverage for the benefit concert for Ukraine:
Goshen College raises money for victims in Ukraine – ABC 57
Concert will be held at Goshen College to benefit Ukraine – Fox 28
Recital will aid homeland of GC violinist Solomia Soroka – The Elkhart Truth,