A fascination with sloths: Bluffton University professor to present C. Henry Smith Peace Lecture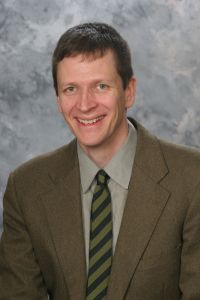 2014 C. Henry Smith Peace Lecture: Bluffton (Ohio) University associate professor of religion Trevor Bechtel, "The Already Peaceable Kingdom: A Bestiary of Peaceable Living."
Date and time: Monday, March 3 at 7:30 p.m.
Location: Goshen College's Administration Building Room 28
Cost: Free and open to the public
Trevor Bechtel, associate professor of religion at Bluffton (Ohio) University, will present the 2014 C. Henry Smith Peace Lecture on Monday, March 3 at 7:30 p.m. in the Goshen College Administration Building Room 28. Bechtel will speak on "The already peaceable kingdom: A bestiary of peaceable living." The lecture is free and open to the public.
Working from specific stories of animals across domestic and wild spaces, including actor Kristen Bell's infamous sloth fascination, this talk argues that peace is found wherever we discover right relationships. Bechtel's presentation focuses on understanding the ecology of our relationships and seeking the full flourishing of all life. Surprising answers to questions of domestication, vegetarianism, hunting and pet owning will be considered.
Bechtel's expertise is in contemporary theology and ethics, especially biblical interpretation and creation. His research is currently focused on how humans live with animals, as well as ethical implications of technology.
Bechtel has edited and contributed chapters for several books, written articles and given numerous presentations. He has also recorded two albums with his musical group, the Anabaptist Bestiary Project. He has two forthcoming books, titled "How to Eat Your Bible: Performance for Mennonite Bodies" (Herald Press), and "The Gift of Ethics: Receiving the Promise of Jesus in the Beatitudes" (Cascadia Publishing House).
The C. Henry Smith Peace Lecture, named for a former history professor at both Bluffton University and Goshen College, includes a research grant for the lecturer. The grant is awarded each year to a professor at a Mennonite college, who then presents the lecture at both Bluffton University and Goshen College.