Winter One Acts explore dark themes with humor and hope
Event: Winter One Acts
Date and time: Feb. 14,15 at 8 p.m.; Feb. 16 at 3 p.m. (ASL interpreted)
Location: Goshen College Umble Center
Cost: $3, tickets available at the door or online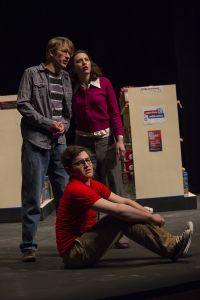 The Goshen College Theater Department will perform two plays during the Winter One Acts, "Stay Tuned," and "Do Not Go Gentle," on Friday, Feb. 14, and Saturday, Feb. 15 at 8 p.m. and on Sunday, Feb. 16 at 3 p.m. (ASL interpreted) in Goshen College's Umble Center.
"Stay Tuned" is written by 1999 GC graduate Peter Eash-Scott and directed by Grace Swartzendruber, performance venue production manager at GC. This 2012 honorable mention Peace Play illuminates the incessant bombardment of external voices in our daily lives and how it affects our relationships. "Stay Tuned" points a snarky finger at the media and marketing that constantly vie for our attention, and how these voices manifest in our daily lives. In the play, a routine trip to the drugstore quickly turns out to be more than the characters bargained for.
"This play was over ten years in the making," Eash-Scott said. "It was written in response to a shooting in Wilkinsburg, Pa., in 2000. I had just gotten back from a trip to the local drugstore when I found out that there had been a shooting just outside the pharmacy. It was a hate crime in which a man shot five people, killing three. For years, I unsuccessfully attempted to write about the event before finally settling on the scenario of 'Stay Tuned.' While I was troubled by this act of violence and many others that have occurred in neighborhoods I know well, I have found the media's response to these horrifying occasions to be almost as troubling."
"Living in the community near Wilkinsburg, I knew the rich, dynamic culture that was there," Eash-Scott added. "And I saw first-hand how media portrayals fed heavily into hurtful stereotypes that did absolutely nothing to help the neighborhood and only perpetuated and reinforced how people outside those communities considered them. So, to some extent, this play is a fictitious reimagining of what might have happened had I been at the drugstore twenty minutes later."
"Stay Tuned" features Brett Conrad, a junior from Lakewood, Colo.; Karsten Hess, a senior from Goshen; Nick Peebles, a freshman from Chicago; Lea Ramer, a freshman from Fort Collins, Colo.; and Adrienne Schmucker, a sophomore from Wauseon, Ohio.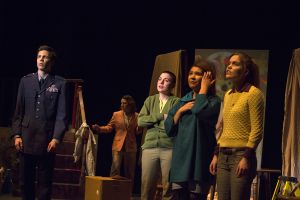 Susan Zeder's "Do Not Go Gentle" is directed by Angie Troyer, and serves as Troyer's senior recital performance. In "Do Not Go Gentle," Lillian Boedecker Barron is 84 years old, vibrant, funny, wise, and recently deceased. During her lifetime, Lillian shared a special, long-distance bond with her granddaughter, Kelly, and suffered an estrangement from her son Windsor.
After her death, Lillian discovers that she cannot move on until the rifts are somehow mended. Windsor and Kelly come from overseas to settle Lillian's affairs and are aghast to discover that the walls of her house have been painted with wild, sometimes humorous, sometimes horrific murals and drawings. As they unravel secrets of the paintings, the two make astonishing discoveries about themselves and a special relationship between Lillian and a neighborhood child. This poignant play explores the wonder of words and the transformative power of art as it offers humor and hope to anyone who is, or has ever been, a grandparent, parent or a child.
"I have a great personal connection to the poem 'Do Not Go Gentle Into That Dark Night' by Dylan Thomas, which the play is based upon," said Troyer. "I have also worked on this play in the past and have developed a particular fondness for it."
"Do Not Go Gentle" features Lauren Treiber, a senior from Grand Rapids, Mich., as Lillian; Ally Medellin, a freshman from Goshen, as Kelly; Paul Zehr, a junior from Carthage, N.Y., as Windsor; Brett Conrad, a junior from Lakewood, Colo.; Christina Hofer, a sophomore from Dolton, S.D.; and Adrienne Schmucker, a sophomore from Wauseon, Ohio.
Tamera Izlar, assistant professor of theater, is the producer for the Winter One Acts and Andrew Moeggenborg, assistant professor of theater, is the technical director and set designer. Other members of the production team include: Martin Flowers, a sophomore from Nappanee, sound designer; Robert Lerch, a senior from Spring Valley, N.Y., sound board operator; Hannah Sauder, a sophomore from Lititz, Pa., hair and makeup; Melanie Webb, a sophomore from Goshen, poster/program designer; Natasha Weisenbeck, a senior from Clifton, Ill., costumes; and Riley Woods, a freshman from North Manchester, Ind., light designer and operator.
Tickets for the show cost $3, and are available through the Welcome Center by calling (574) 535-7566, online at goshen.edu/tickets or at the Umble Center Box Office an hour before the show. There will be no intermission.