Goshen College graduate and contestant on SyFy's Face Off to speak at GC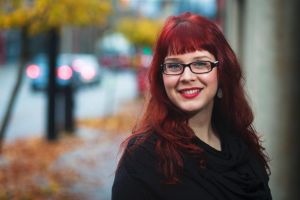 Visiting Artist Keynote: Sarah Elizabeth Miller, professional makeup and costume designer and contestant on season 3 of SyFy's Face Off.
Date and time: Sunday, Nov. 24, 4 p.m.
Location: Goshen College's Umble Center
Cost: Free and open to the public
Sarah Elizabeth Miller spent a lot of time backstage at Goshen College's Umble Center, honing her skills as a makeup artist. On Sunday, Nov. 24, she will return to the Umble Center, but this time she will be the one on stage.
During her keynote address, Miller will candidly discuss her history, passion and work ethic as a professional television and film makeup artist. She will provide behind the scenes excerpts of her digital portfolio, speak about her experience and creative endeavors and describe her experience on the SyFy channel reality show Face Off.
Miller will also lead several interactive workshops on makeup application and techniques. These workshops are full and closed for registration.
Miller grew up in Goshen, attended Bethany Christian High School and graduated from Goshen College in 2005 with a major in art and minor in theater. While at Goshen College, Miller was very active with the theatre program and worked with New World Arts on many productions.
After college, Miller moved to Chicago, where she worked with various productions designing costumes, makeup and props. In 2010, she moved to Vancouver, B.C., to attend the Vancouver Film School's Makeup Design program. Since then, she has been freelancing in the film/TV industry in Vancouver and was a contestant on Season 3 of SyFy's Face Off in 2012.