Merry Lea's annual Autumn Hope Conference will explore the long view of immigration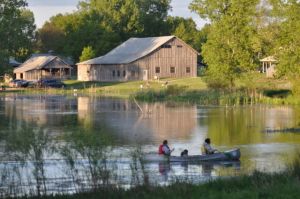 Autumn Hope Conference: "Native Place: Disruption and Healing"
Date and time: September 20, 6 p.m. to Sept. 22, noon
Location: Merry Lea Environmental Learning Center, Wolf Lake, Ind.
Cost: $125 for the weekend, including meals. $85 Saturday only. $30 for students. Dorm lodging is available for an additional $20 per night. Camping is available for $5 per night.
Registration deadline: Sept. 17
Immigration. The word stirs anxieties, creates political factions and generates mountains of paperwork. Yet immigration has been a fact of life for thousands of years, and all North Americans were immigrants at one point in history.
From Sept. 20 to 22, Merry Lea Environmental Learning Center of Goshen College will host the annual Autumn Hope Conference, titled "Native Place: Disruption and Healing." The weekend conference will take the long view of immigration and examine the impact of different people groups on the landscape.
Two hundred years ago, much of the patch of land near Wolf Lake, Ind., that is now known as Merry Lea was submerged beneath a 900-acre lake. The lake and surrounding wetlands served as pantry and hunting grounds for the local Miami people.
One hundred years ago, the nearby town of Wolf Lake became known for its onion production. Then came mint, corn and soybeans. Today, some of these farm fields have been returned to wetlands or prairie, and forests have grown up in other areas under the protection of a nature center.
Luke Gascho, executive director of Merry Lea, will serve as moderator for the conference. Gascho, who grew up in northern Minnesota, often wonders how the Native American classmates he knew as a child perceived the view of history and immigration presented in the textbooks they studied. Bearing this in mind, Gascho will lead participants in reflecting on their personal histories as native and immigrant.
Unlike most conferences that are confined by four walls, Native Place: Disruption and Healing includes time outdoors on the land. This includes a night hike, co-led by Dani Tippmann, a Miami elder and historian, and Merry Lea's Paul Steury. Lisa Zinn, director of Merry Lea's Sustainability Semester in Residence, will lead a hike examining clues in the landscape that reveal its history and the communities that have occupied it. Jonathon Schramm, who teaches in Merry Lea's masters in environmental education program, will lead a hike titled "Flourishing in Spite of Disruption: Learning from the Plant Community."
Indoor sessions include a coffeehouse and a panel of local people whose ancestors have arrived in the area at different times. This faith-based event culminates with worship on Sunday morning. Aaron Sawatsky-Kingsley, Goshen city forester, will speak at Sunday worship.
The cost of "Native Place: Disruption and Healing" is $125, which includes five home-cooked meals. Saturday only, or the equivalent, is $85. Students pay $30. Dorm lodging is available for an additional $20 per night. Camping is available for $5 per night.
Please register by September 17. More information is available at http://merrylea.goshen.edu/news-events/events/autumn-hope-conference-2013.