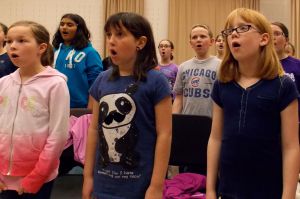 The Goshen College Community School of the Arts (CSA) will hold auditions Aug. 19-20 for youth who wish to sing in the organization's children's choirs.
CSA offers two community choirs for young children: Rejoice, directed by Kristin Kauffman, for students in grades 3-5, and Shout for Joy, directed by Sandy Hill, for students in grades 6-8. All area youth in grades 3-8 may audition for the choirs regardless of singing experience or past participation.
Auditions will be held Monday, Aug. 19 from 4–5:30 p.m. and Tuesday, August 20 from 6–7:30 p.m. in the Goshen College Music Center. Individual auditions will last 15 minutes and no special preparation is required, although singers may bring along a song of their choice for the audition if they wish.
New this year, the CSA is also debuting the High School Honors Choir. Directed by Goshen High School choral director and Goshen College Music Center Executive Director Marcia Yost, the Honors Choir is open to all Elkhart County choral students in grades 9-12 by audition. Interested students should contact Yost at (574) 535-7793 to set up an audition.
The Shout for Joy and Rejoice choirs rehearse Thursday evenings from 7-8:15 p.m. in the Goshen College Music Center, beginning Aug. 22. The High School Honors Choir will rehearse Sunday afternoons from 3–4:30 p.m. beginning early September. Concerts take place in the Music Center's Sauder Concert Hall and elsewhere in the Goshen area. Tuition is $75 per semester, with registration through the Community School of the Arts required. Financial aid is available. To reserve an audition time, please call the Goshen College Music Center main office at (574) 535-7361.