Sabbath hike explores the "Essence of August"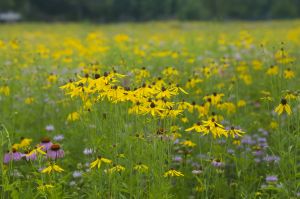 Event: Sabbath hike series
Date and time: Sunday, Aug. 11, 3:30 p.m.
Location: Merry Lea Environmental Learning Center (directions)
Cost: Free, donations accepted
Merry Lea Environmental Learning Center continues its Sabbath Hike series on Sunday, Aug. 11, at 3:30 p.m. at Merry Lea's Rieth Village. The 1.5-hour guided hikes are designed to help people let go of their responsibilities and witness earth's beauty. Prairie flowers are at their peak right now and good weather is expected.
Future Sabbath Hike series dates are a "Naming Nature" hike on Sept. 8 and an "Autumn Change" hike on Oct. 20. The Sabbath Hikes are geared toward adults or youth who are seeking a reflective approach and a change of pace from their busy lifestyles.
Merry Lea was created with the assistance of the Nature Conservancy and the generosity of Lee A. and Mary Jane Rieth. The 1,189-acre nature preserve is located in central Noble County, midway between Fort Wayne and Goshen, south of Wolf Lake.