Symphony Orchestra to present spring all-American concert April 19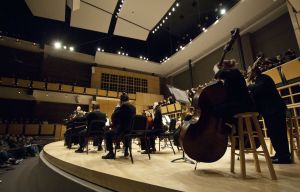 Concert: Goshen College Symphony Orchestra Spring Concert, conducted by Dr. Christopher Fashun
Date and time: Friday, April 19, 2013 at 7:30 p.m.
Location: Goshen College Music Center's Sauder Concert Hall
Cost: $7 adults, $5 seniors/students. GC students/faculty/staff free with ID
The Goshen College Symphony Orchestra (GCSO) will present a concert of orchestral works by American composers in their spring concert, on Friday, April 19 at 7:30 p.m. in the Goshen College Music Center's Sauder Concert Hall.
The GCSO, conducted by Assistant Professor of Music Dr. Christopher Fashun, will present an "All-American" program, featuring performances of Charles Ives' The Unanswered Question, Armenian-American composer Alan Hovhaness' Prelude and Quadruple Fugue, Op. 128, and Howard Hanson's Symphony No. 2, Op. 30 ("Romantic").
The ensemble will also celebrate the 90th birthday of Goshen College Professor of Music Emeritus Mary Oyer with a performance of William Grant Still's Danzas de Panama, a piece specially selected for Dr. Oyer by Fashun. Birthday cake for all concert attendees will be served following the concert in the Music Center lobby.
Tickets cost $7 for adults and $5 for seniors/students, and are available at the door one hour before the concert. Goshen College students, faculty and staff are free with valid ID.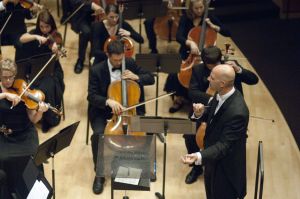 Fashun, DMA, also directs the Lavender Jazz Ensemble, oversees the music education program, conducts the orchestras for musicals and opera and teaches applied percussion. In 2011, he became the music director of the Elkhart County Honors Youth Orchestra where he has the opportunity to work with talented high school musicians throughout Elkhart County. Fashun holds a bachelor's degree in music education from Saint Olaf College in Northfield, Minn., and received his Master of Music degree in percussion performance from the University of Wisconsin-Madison. He holds a Doctor of Musical Arts in Orchestral Conducting from the University of Iowa where he studied conducting with William LaRue Jones and viola with Christine Rutledge.