Violin students to perform free recital of Baroque sonatas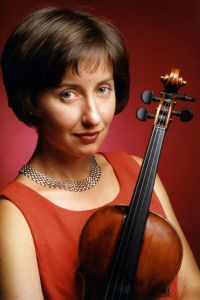 Violin Studio Recital: Solomia Soroka's students performing Biber's "Rosary" Sonatas
Date and time: Tuesday, Feb. 12, 2013 at 7:30 p.m.
Location: Rieth Recital Hall, Goshen College Music Center
Cost: Free and open to the public.
Goshen College violin students in the studio of Associate Professor of Music Solomia Soroka will perform a free recital of sonatas by Baroque composer Heinrich Iganz Franz Biber on Tuesday, Feb. 12, 2013 at 7:30 p.m. in the Music Center's Rieth Recital Hall. The recital is free and open to the public.
Soroka will perform along with Goshen College string students Katie Miller, Maggie Yoder, Brisa Peacock, Sam Smucker, Hillary Harder, Josh Yoder, Martina Pudelova and Garrett Ahlgrim. The students will be accompanied on harpsichord by Goshen College Music Department staff accompanist Christine Larson Seitz.
This unique recital will feature the Rosary Sonatas by renowned Baroque violinist Heinrich Franz Biber. Each sonata of this cycle corresponds with a bead on the rosary and depicts an event of the lives of Jesus Christ and Virgin Mary. The sonatas constitute one of the virtuosic high points of the Baroque violin repertoire. In addition to the daring technical and contrapuntal demands of Biber's writing, each sonata employs a different tuning of the violin's strings, known as scordatura. This collection of Rosary (or Mystery) Sonatas survives in a manuscript copy with engravings accompanying each piece portraying each depicted scene, and these engravings will be displayed at the recital.
Soroka, born in L'viv, Ukraine, is among the most accomplished Ukrainian musicians of her generation. She won top prizes in three prestigious international violin competitions held in the former Soviet Union: the Prokofiev, Lysenko and Zolota Osin' competitions. Soroka earned her master's degree and completed postgraduate studies at the Kyiv Conservatory, and later served on its faculty in the chamber music department. Her doctoral degree is from the Eastman School of Music. She has made four recordings for Naxos, for which she has received excellent reviews in major music magazines in the United States and Europe. For the past four years she has been under contract with Toccata Classics in London, to make world premier recordings. Soroka teaches violin, chamber music, music literature and advanced music theory at Goshen College. During the summer she conducts masterclasses in Italy and Ukraine. She studied with Hersh Heifetz, Bohodar Kotorovych, Liudmyla Zvirko and Charles Castleman.