Michiko Itatani: Fall 2012 Kenagy Visiting Artist
Chicago artist, Michiko Itatani will be the Eric Yake Kenagy Visiting Artist for 2012-13. She will also have a concurrent exhibit in the Hershberger Gallery from Nov. 7 – Jan. 13. She is on the faculty of the School of the Art Institute of Chicago with an extensive international exhibit record. Goshen is grateful for the opportunity to bring her to campus with funding from the Kenagy Endowment.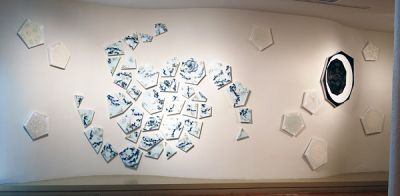 In her youth Michiko Itatani thought she wanted to write fiction. As an artist, Itatani brings the narrative sensibilities of a fiction writer to her imaginative paintings and drawings. She commonly works in series, likening each image to a chapter in a book. Her imagery draws upon the multiple narratives we as humans create for ourselves – mythological, historical, cultural, and scientific, all interwoven with and filtered through personal experience. Ms. Itatani's work poetically places fragments of symbols and meanings into invented circumstances and environments. Speaking about her most recent series, Cosmic Wanderlust, she says her work focuses on the, "parallel fictions based on the human desire to reach out into mental and physical space beyond our grasp. One is looking out and the other is looking in." Challenging, complex, and mysterious, Ms. Itatani's art speaks to the human ability to invent and synthesize, and her work is ultimately about hope.
Link for more information about Michiko Itatani