Four retired Goshen College art professors to display work in gallery
Exhibit: Retired Goshen College Art Faculty Show
Date and time: Sunday, Sept. 23 to Sunday, Nov.4; reception on Sunday, Oct. 6 from 5 to 7 p.m.
Location: Goshen College Music Center's Hershberger Art Gallery
Cost: Free and open to the public
---
The work of four faculty emeriti from the Goshen College Art Department will be on display in Goshen College Music Center's Hershberger Art Gallery from Sunday, Sept. 23 to Sunday, Nov. 4. There will be a reception on Sunday, Oct. 6 from 5 to 7 p.m. in the Hershberger Gallery. The exhibit, which features the work of Marvin Bartel, John Blosser, Abner Hershberger and Judy Wenig-Horswell, is free and open to the public.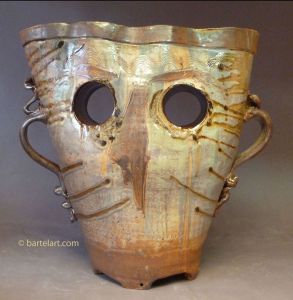 Bartel will exhibit recent sculptural and functional ceramics. Bartel taught ceramics and art teaching methods at Goshen College from 1970 until his retirement in 2002. He also taught courses in basic design, three-dimensional design, photography, computer drafting and architectural design. Bartel patented energy reduction features used in the gas kiln he uses. It was one of seven kinds of kilns built during a kiln building class he taught in 1975.
Bartel studied art at Bethel College in Kansas, Washburn University and Wichita State University. He holds a master's and doctorate degree in art education from the University of Kansas.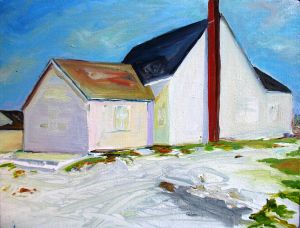 Blosser will exhibit his direct observation paintings. While a professor at Goshen College from 1999 to 2011, Blosser spent the majority of his time as the chair of the art department, during which he led search committees that hired four art faculty members and oversaw the opening of the Hershberger Art Gallery in the Music Center.
Blosser graduated from Goshen College with a bachelor's degree in 1970. He continued on to Bowling Green State University for a master's degree and Arizona State University for a master of fine arts degree before teaching at Hesston (Kan.) College for 20 years. In 1999, Blosser returned to Goshen College as a professor, where he taught for 12 years.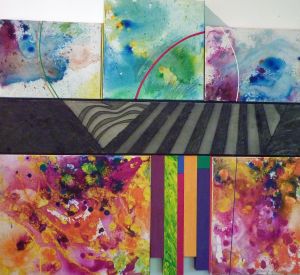 Hershberger will exhibit his acrylics and mixed media works. Hershberger was a professor of art at Goshen College from 1965 to 1999. He received his bachelor's degree from Goshen College in 1960, a master of arts in teaching degree from Indiana University, Bloomington in 1965 and a master of fine arts degree from the University of Michigan in 1970.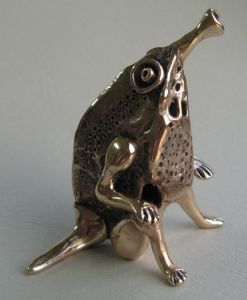 Wenig-Horswell will exhibit her watercolors, jewelry and sculptures. She taught at Goshen College for 34 years, teaching a wide range of studio and lecture classes in the art and humanities departments until her retirement in 2009. She served briefly as art department chair on two occasions and teamed with music and theater professors to develop the Arts in London course in 1999, which she helped teach for six years.
After graduating from Bowling Green University with a bachelor of fine arts degree, she went on to earn a master's of fine arts degree in 1970. For several years, Wenig-Horswell taught art at Northridge High School in Middlebury, Ind. In 1973, while at Northridge, she started teaching evening studio classes at Goshen College before teaching full time as a sabbatical replacement for Professor Emeritus of Art Abner Hershberger in 1976.
The Hershberger Art Gallery is located near the north lobby of Goshen College's Music Center at College Avnue and 12th Street in Goshen. The gallery hours are 9 a.m.-4:30 p.m. on weekdays, 1-4 p.m. on Saturdays and 2-4 p.m. on Sundays. Hours vary during school vacations, and there are additional gallery hours on concert dates.