Goshen College's Community School of the Arts to present showcase concert and hold auditions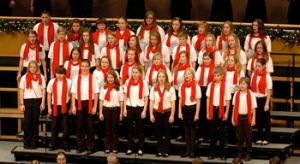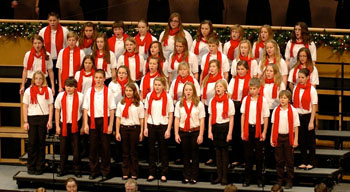 Concert: Community School of the Arts Showcase Concert
Date and time: Sunday, May 6 at 4 p.m.
Location: Goshen College Music Center's Sauder Concert Hall
Cost: $7 for adults, $5 for students/seniors, available at the door one hour before the concert
---
GOSHEN, Ind. – Two Goshen College Community School of the Arts (CSA) children's choirs will perform as part of the Spring CSA Showcase Concert on Sunday, May 6 at 4 p.m. in Goshen College Music Center's Sauder Concert Hall.
Performing will be Rejoice (grades 3-5), directed by Rosemary Rupp, and Shout for Joy (grades 6-8), directed by Sandy Hill. The concert will also feature a performance by CSA students Carol and Lauren Weirich. The Weirich sisters study violin, viola, piano and organ in the CSA and participate in the Youth Honors Orchestra ensembles.
Tickets are $7 adults, $5 seniors/students, available at the door beginning one hour before the concert. Goshen College faculty/staff/students are admitted free with ID, as well as CSA students and their immediate family members.
The CSA children's choirs will be holding auditions for the 2012-2013 ensembles in early May. Rejoice will be holding auditions on Thursday, May 10 from 6:30-8:15 p.m. Shout for Joy will be auditioning new students Thursday, May 10 from 6-8:15 p.m., Wednesday, May 16 from 7-8 p.m. and Thursday, May 17 from 6-7 p.m. New and returning students may reserve an audition time by calling the Music Center Main Office at (574) 535-7361.
Singers in the choirs will be registered through the CSA. Tuition is $60/term plus registration fee.
The CSA serves hundreds of community families each season, offering private lessons, two children's choirs, five orchestras, including the Elkhart County Youth Honors and Intermediate Concert Orchestras, and Music Together classes for preschool children in Elkhart County. Need-based scholarships are available for every CSA activity. Registration for Fall 2012 lessons and activities begins June 15, 2012.
For more information, visit www.gcmusiccenter.org or call (574) 535-7361.
Editors: For more information about this release, to arrange an interview or request a photo, contact Goshen College Acting News Bureau Coordinator Alysha Bergey Landis at (574) 535-7762 or alyshabl@goshen.edu.
###
Goshen College, established in 1894, is a residential Christian liberal arts college rooted in the Anabaptist-Mennonite tradition. The college's Christ-centered core values – passionate learning, global citizenship, compassionate peacemaking and servant-leadership – prepare students as leaders for the church and world. Recognized for its unique Study-Service Term program, Goshen has earned citations of excellence in Barron's Best Buys in Education, "Colleges of Distinction," "Making a Difference College Guide" and U.S.News & World Report's "America's Best Colleges" edition, which named Goshen a "least debt college." Visit www.goshen.edu.