Fiber artist Juanita Yoder to display paintings on silk, linen, paper in GC's Hershberger Gallery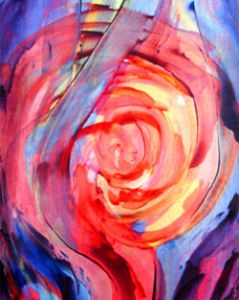 GOSHEN, Ind. – Juanita Yoder, fiber artist and 1986 alumna, will have her recent paintings on silk, linen and paper on display in Goshen College Music Center's Hershberger Art Gallery, March 4-25, in an exhibit titled "Transfigure." There will be a reception on Sunday, March 4 from 2 to 4 p.m. in the Hershberger Art Gallery, and Yoder will also present a lecture on Monday, March 5 at 11 a.m. in Goshen College's Administration Building, room 28. All events are free and open to the public.
"Transfigure" offers an intimate portrait of an artistic exploration of a visual and spiritual language, inspired by the ocean, meditation and the art material themselves. In this collection of paintings, the artist reveals experiments in imagery and technique, as well as the translation of concepts across art materials.
In spring of 2010, Yoder participated in a group pilgrimage to Assisi and Laverna, Italy, where she began to explore smaller-scale, personal works. A small sketchbook from this experience will be included in the Goshen College exhibit. The pilgrimage continues to influence her spiritual practice and artwork.
For two decades, Yoder has painted large-scale installations on silk for spiritual settings, with commissions by such notable institutions as Princeton University Chapel and Laguna Beach (Calif.) Presbyterian Church. She was awarded a BENE Award for Devotional Art for her commission of the 15 Stations of the Cross for St. Thomas Moore Catholic Church in Glendale, Ariz.
Yoder is formally trained as a painter, with a bachelor's degree in art from Goshen College and a master's degree in art from Eastern Illinois University, where she was awarded a full scholarship and a teaching assistantship. She also earned a teaching certificate from The College of New Jersey. Yoder is a member of the Association of Consultants for Liturgical Space, a national organization to connect architects, designers and artists with clients who need help creating an environment of beauty and worship.
Three years ago, Yoder began teaching high school art at Emily Fisher Charter School in Trenton, N.J., often working with students dealing with challenging economic and family situations and living in neighborhoods affected by urban violence. Yoder was deeply moved by the students and their lives and artwork, so she designed and is implementing an entirely new and effective art curriculum tailored to the students. The school's hallway exhibits are a vivid testament to the creativity overflowing from the students, and students have been able to participate in exhibits in local venues, including the Trenton City Museum. A book of examples of student work will be on display at the Goshen College exhibit.
Yoder has been a participant and presenter at national conferences such as Form Reform, Interfaith Forum of Art and Architecture, University of Dallas Ministry and Liturgy, Association of Consultants for Liturgical Space, National Pastoral Musicians, Mennonite Arts Weekends (Cincinnati), Presbyterian Musicians at Montreat and Southwest Liturgical Conference.
Yoder lives in Robbinsville, N. J. and maintains an art studio in The Art Station along with 15 other artists in Hightstown, N.J. To learn more about Yoder and her art, visit JYKart.com.
The Hershberger Art Gallery is located near the north lobby of Goshen College's Music Center at College Avenue and 12th Street in Goshen. The gallery hours are 9 a.m.-4:30 p.m. on weekdays, 1-4 p.m. on Saturdays and 2-4 p.m. on Sundays. Hours vary during school vacations, and there are additional gallery hours on concert dates.
Editors: For more information about this release, to arrange an interview or request a photo, contact Goshen College Acting News Bureau Coordinator Alysha Bergey Landis at (574) 535-7762 or alyshabl@goshen.edu.
###
Goshen College, established in 1894, is a residential Christian liberal arts college rooted in the Anabaptist-Mennonite tradition. The college's Christ-centered core values – passionate learning, global citizenship, compassionate peacemaking and servant-leadership – prepare students as leaders for the church and world. Recognized for its unique Study-Service Term program, Goshen has earned citations of excellence in Barron's Best Buys in Education, "Colleges of Distinction," "Making a Difference College Guide" and U.S.News & World Report's "America's Best Colleges" edition, which named Goshen a "least debt college." Visit www.goshen.edu.