Goshen College students sit down with close friend of MLK to talk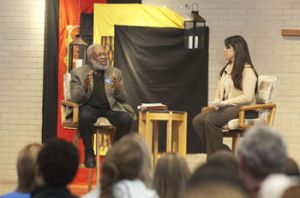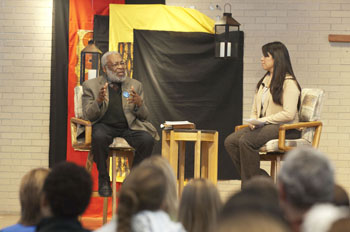 GOSHEN, Ind. – It's not often that Goshen College students have the opportunity to pick the brain of a close friend of Dr. Martin Luther King, Jr. But that's exactly what happened during a convocation on Monday, Jan. 16, when senior Yolo Lopez-Perez sat down with Dr. Vincent Harding to ask him questions about race, multiculturalism, identity and servant leadership.
Harding stressed the idea that the work of the civil rights movement is ongoing, and that each person has the ability to help. "You now have a freedom to be engaged with each other in ways that may make it possible to create a better Goshen College, city, maybe even Elkhart, but maybe even America," he said. "I am asking you all to be free to see that you are citizens of a country that we must still be creating. A country where all of us are welcome, where all of us are deep participants, where all of us can sing and move and meet each other, where the oldest among us will always know that they are cared for and the youngest among us will always know that they will be nurtured."
When it comes to balancing an organization's need for cohesion while welcoming diversity, Harding said it is important to be open to the natural changes and developments that come along. "Identity is not something that is most valuable to us when we are grasping it, and saying 'Don't lose it!'" said Harding. "Identity is most helpful and useful to us when we're saying, 'How can we join what we have with what others have.'"
Harding used a caterpillar as a metaphor for what could happen if we hold on too tightly to our identities. "If the caterpillar said, 'I'm going to be a caterpillar, that's all!' it loses its chance to fly," he said.
When asked about servant leadership, one of the college's core values that is being emphasized this school year, Harding pointed to the life of Martin Luther King Jr. Before King became a civil rights leader, a group of women in Montgomery, Ala., began taking radical actions to protest against discrimination, including Rosa Parks. But the group of women needed a spokesperson, said Harding, so they called on King and he became their servant.
"[King] didn't come galloping into Montgomery on a steed saying 'I am your leader,'" said Harding. "The people knew the kind of leader they needed, and King listened to them.
Harding also spoke of the importance of standing in solidarity with the poor, the underprivileged and the discriminated against, a cause to which King literally gave his life.
Part of being a servant leader, said Harding, is taking Jesus seriously. "I don't see any way of taking Jesus seriously without standing with the poor, without being available to anyone who's in trouble, without always looking around for where are the outcasts and the weak, and going to stand by their side."
Harding ended the time by encouraging students and the campus community to be in open conversation with one another, and to live into the freedom of the great variety that the campus has and to take full advantage of it.
Harding was a close friend of Dr. King, at one point living around the corner from him in Atlanta when he and his wife, Rosemarie (a '55 GC alumna), directed a Mennonite Voluntary Service unit, from1961 to 1964. Harding drafted the "Beyond Vietnam" speech that King delivered at Riverside Church on April 4, 1967, and in 1968, Harding became the first director of the King Memorial Center in Atlanta.
The convocation also featured performances by the Parables worship team, and was among the various activities the college offered for its annual Martin Luther King Study Day. Other activities throughout the day, which focused on the theme "Hope, History and Change," included a spoken word coffeehouse, a community conversation about race, a community luncheon, and a candlelight vigil and march for peace and justice.
— By Alysha Landis
Editors: For more information about this release, to arrange an interview or request a photo, contact Goshen College Acting News Bureau Coordinator Alysha Bergey Landis at (574) 535-7762 or alyshabl@goshen.edu.
###
Goshen College, established in 1894, is a residential Christian liberal arts college rooted in the Anabaptist-Mennonite tradition. The college's Christ-centered core values – passionate learning, global citizenship, compassionate peacemaking and servant-leadership – prepare students as leaders for the church and world. Recognized for its unique Study-Service Term program, Goshen has earned citations of excellence in Barron's Best Buys in Education, "Colleges of Distinction," "Making a Difference College Guide" and U.S. News & World Report's "America's Best Colleges" edition, which named Goshen a "least debt college." Visit www.goshen.edu.