Tuesday, January 3, 2006
Professional theatre group Breaking Ice highlights Goshen College's 13th annual Martin Luther King Jr. Study Day Jan. 16
GOSHEN, Ind. – Goshen College will honor the life and work of Martin Luther King Jr. by holding its 13th annual all-school Martin Luther King Jr. Study Day, emphasizing the values and ideals that characterized King's work, on Monday, Jan. 16.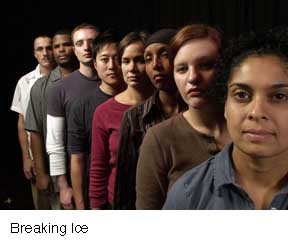 The featured guest during the day's activities is the professional theatre group Breaking Ice. They will offer a stimulating and entertaining performance program that gets to the heart of difficult issues, like racism. Each performance is created for the specific circumstances of its presentation, an original theater piece using poetry, music, movement and structured improvisation to bring tough issues to life. The facilitated discussion that will follow provides the forum for participants to explore the issues together. Breaking Ice is a program of Pillsbury House Theatre and a strategy of Pillsbury United Communities.
Breaking Ice and Voices-n-Harmony will perform at 7:30 a.m. during the Martin Luther King Jr. Community Prayer Breakfast in the Church-Chapel Fellowship Hall. Voices-n-Harmony is Goshen College's Gospel choir directed by Patrice Penny Henderson of Elkhart, Ind. The choir includes Goshen College students, faculty, staff and community members from a diverse mix of cultural backgrounds and ages who sing to proclaim the power of God's love. Advance registration is required; tickets for the breakfast are $15 per person or $120 for a table of eight and must be reserved by Jan. 12. For more information about the prayer breakfast, or to reserve a seat or table, call the Welcome Center at (574) 535-7566.
Breaking Ice will perform during a convocation at 10 a.m. in the Church-Chapel. Voices-n-Harmony Choir will also sing during the convocation.
Goshen College's Director of the Multicultural Affairs Office Odelet Nance said, "Goshen College's MLK Day is a time for reflection on the legacy of Dr. King and his dream. MLK Day encourages us to examine our commitment to social justice on our campus, our community and our world. As the demographics of our country are rapidly changing, we must strategically work in unity to ensure that everyone is treated with dignity and respect. The Breaking Ice theatrical performance group will allow us to observe dramatic scenes from our past and present so that we may construct an action plan for our future.