Tuesday, August 16, 2022 — Shanklin Park / Schrock Pavilion, Goshen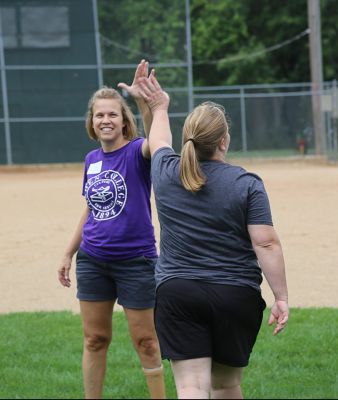 The retreat will be a celebration of our campus community and the beginning of a new school year together. Join us for a time of renewal, joy, connection and inspiration.
A reminder that employees who are 0.5 FTE and above are expected to attend, though everyone is invited and welcome. Retired employees and their spouses are invited to join us for as much of the day as you would like.
NOTE: Rain location will be in the Church-Chapel and Rec-Fitness Center
What to bring and other notes:
Please wear a purple Goshen College T-shirt. Overall casual and comfortable attire is very appropriate for the day.
Bring a water bottle, hats, mosquito repellent and sunscreen as desired.
There is plenty of parking, though please leave the spaces closest to the pavilion available for persons with a handicap or low mobility needs. If you are able, we encourage you to ride bike or walk to the park.
Schedule
10 a.m. —

Registration and socializing
10:30 a.m. — Welcome, new employee introductions, worship, president's address, group photo

11:30 p.m. —

Lunch: taco bar (provided by AVIFresh)

12:45-3 p.m. —

Fun activities (you choose from various options, listed below, some offered only once)

12:45-1:45 p.m. —

Activity session 1

1:45-2 p.m. —

Drink break

2-3 p.m. —

Activity session 2

3 p.m. — Closing: dessert (paletas), words from the president and singing the Alma Mater together
Activity choices include:
Basketball contests — Led by Stephanie Miller, Head Women's Basketball Coach.

We will play games with a bball such as Knockout (a shooting competition), a passing contest, possibly a fun relay teamwork game, etc.

Biking (bring your own bike and helmet) — Self-directed. Create your own loop from/back to Shanklin Park on Goshen trails. Find colleagues interested in a fast/furious or leisurely ride.
Coloring — Led by Marlene Penner, Human Resources Director. Spend time coloring and conversing with colleagues. (Supplies provided)
Craft: Newspaper bowls — Led by Jane Taylor, Physical Plant Administrative Manager, and Evra Tshisola Zango, Custodian.

Create a colorful bowl

out of rolled newspapers. This activity may take you more than one session to complete — but you can join another activity once you have finished. (Supplies provided)

Craft: Quilt knotting — Led by Solidia Brown, Assistant to Academic Programs. Help finish tying a quilt for the 4-H Homemakers Club. (Quilts and supplies provided)
Nature Weaving Walk

 — Led by Merry Lea Environmental Educators .

Get your creative energy going with a short walk down the Millrace to explore local species and collect natural materials. Bring the materials back to create your very own nature weaving or mobile as an artistic expression of this place and its' ecosystems. 

Disc golf — Led by Jason Samuel, WGCS General Manager and Associate Professor of Communication. Stroll through the woods and over the river to the 9-hole disc golf course at adjacent Mullet Park. Discs provided; beginner-friendly.
Kickball — Led by Chad Coleman, Director of Campus Safety and Housing Operations.
Lawn games — Led by Brian Mast, Music Center Executive Director. Interact with colleagues while playing corn hole, ski pole or other lawn games.
Loteria/Mexican Bingo — Led by Luna Maria Campos, Student Life Services Coordinator. Prizes!
Millrace Cohousing introduction and walking tour — Accompanied by Joe Springer, Curator, Mennonite Historical Library. Walk to the nearby Millrace Cohousing neighborhood built on a reclaimed industrial property. Residents and GC alums Mary Ellen Meyer '54 and Mary Lehman Yoder '75 will tell us about the cohousing concept and the development of their neighborhood.
Singing — Led by Brody Thomas, Performance Venue Production Manager. Join together in harmony as we sing from Voices Together hymnal. Starting with a few selections, we will move on to requests! Hymnals will be provided. Come regardless of experience. All are welcome to join, sing, hum or simply listen!
Stretch It Out!: Stretching exercises — Led by Amy Budd, Assistant Professor of Theater. Get your body moving gently, coordinating your breath with a series of gentle techniques to loosen major muscle groups. It's an antidote to long periods of sitting down. Feel free to bring your own mat.
Volleyball — Led by Ann Vendrely, VP for Academic Affairs & Academic Dean, and Trisha Handrich, Major Gifts Officer.