Tuesday, Aug. 11, 2020
9 a.m. – 1 p.m.
On-campus or virtual
Theme: Where Everything Connects
All current employees are invited to come together for a time of community connection and celebration of a new year and being back together again. Our #1 goal is to keep everyone safe so we are offering an in-person experience, as well as a virtual option. Employees who are 0.5 FTE and above are expected to participate, though you are not required to attend in person. The meeting content will be the same for all attendees on or off campus.
Please wear your masks if participating on campus, and bring your own filled water bottle/coffee mug. Drinks will be provided at lunch only. Dress is casual and consider wearing your favorite GC T-shirt or something purple.
Formats: 3 options
Same/centralized Zoom content used for all attendees on-campus or off. No requirement to attend in person, though all are invited and encouraged to join us if possible.
On-campus whole time:

rotation of pre-assigned on-campus locations, 9-12 people in each for first location. Second location: varying number of participants depending on activity selected (some activities directed live/others via Zoom). Group sizes will be capped appropriately for the spaces/locations assigned.

Zoom from wherever:

9 a.m. to noon, without lunch

Zoom from wherever, plus on-campus lunch


Zoom options 2 & 3: Same content as on-campus groups, but activities would be in breakout rooms with other virtual participants. If you do not have adequate tech access at home or in an office and wish to participate from a computer lab on campus, indicate that on the registration form. 
Schedule:
At 9 a.m., log-in to Zoom (link to be shared with those who register for this option) OR arrive at pre-assigned on-campus locations (small groups no larger than 12 people). Go to the Welcome Center if you are unsure of your assigned location.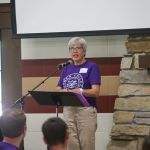 9 a.m. — First location: 
Welcome & introduction of new employees, led by Jodi Beyeler
Worship, led by Joanne Gallardo
President's address, by Rebecca Stoltzfus
10 a.m. — Break (Update: The planning committee has decided it would be safer to not have snacks during the morning unfortunately. Bring your own drinks.)
10:10 a.m. — How we manage the pandemic together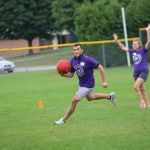 11:20 a.m. — Second location: Fun and games (you choose one on the registration form, all available for those joining virtually or on campus unless otherwise noted)
Virtual Kahoot game: Employee trivia (hosted by Brooke Lemmon, available if raining)
Coloring and music (hosted by Patricia Goodman; if raining individuals who want to color can pick up supplies in IT and take them to another location to do it on their own

)

Praying through campus (live walk host is Regina Shands Stoltzfus, virtual tour host is Ryan Sensenig; if raining, the virtual option will only be available)
Tai Chi session (led by President Stoltzfus, canceled if raining and replaced with a Zoom social room)
Kickball (on-campus only and hosted by Caleb Longenecker, canceled if raining)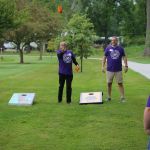 12-1 p.m. — Third location: Lunch served under a tent outside of the Rec-Fitness Center (with tables and chairs physically distanced, and staggered dismissal times from the second locations). Those who participated virtually otherwise are welcome to join in-person for lunch at 12:20 p.m. Lunch registration was required.
Lunch:

chicken or veggie curry and rice, roasted veggies, garden salad, naan bread (AVIFresh)

drink station will feature bottled water with flavor packets available

dessert station will feature paletas (Mexican-style popsicles) from the local Goshen business La Michoacana

Option to play Cornhole game during lunch (hosted by Jacob GunderKline)

If it is raining, lunch will be to-go only, and picked up in the Church-Chapel Fellowship Hall instead of the outdoor tent.
---
2020 Retreat Planning Committee: Jodi Beyeler (chair), Rocio Diaz, Delores Johnson, Tia Johnson, Brooke Lemmon, Jason Samuel, Joe Springer, Kathleen Yoder