Cooking for my Host Family in Quito
Before we left for SST, we were told to prepare some gifts for our host family. The suggestion we got was to prepare some things from Goshen or our College. But at that time the bookstore was already closed. I needed to find another way to prepare a gift. "Clothes? But I don't know the size. Key chain? Did not see a special one. Scarf? No, it is Ecuador, they do not need it."
Spent about one hour on it, but still did not find any good gift. "What can be something only I can give but other people can't? What is the difference between me and other students? The biggest one is that I am Chinese!" Then I decided instead of spending time choosing gifts for them, I can just cook some Chinese food for them.
Two days before the cooking, I told my host mom what food I need. But because it is Chinese food, I need some seasoning like soy sauce. It is unnecessary for them to buy it just because I am going to cook once. So, the best way to solve this problem is to get some from a Chinese restaurant. Fortunately, there is a good Chinese restaurant just two blocks away from my home. After I got back from class, I went to the Chinese restaurant, talked to the owner and got some soy sauce, starch and some Chinese cooking wine. Long time without speaking to strangers in Chinese!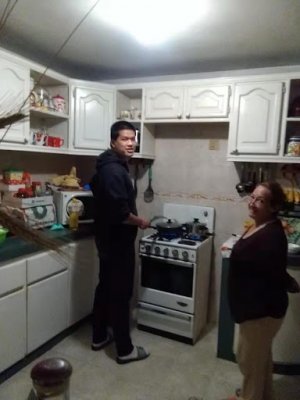 About 5 o'clock, I began to prepare food. Because of the altitude of Quito, I did not cook the rice. I was going to cook some chicken and some cabbage. Even though I had cooked when I was in college, but I had only cooked for people who are about the same age as me. It is ok for them even though the food is a bit too salty or too spicy. Since I began to cook, I have never felt so nervous because my host parents are old people who have already retired. It is important for me to control the amount of salt well. About 2 hour, 7 o'clock which is also the regular time when we eat dinner, I finished cooking. Maybe because I did not cook in the whole winter, I felt like I should be able to finish it faster and easier. At least my host parents enjoy the food. I felt so good when they said it was not overly salty.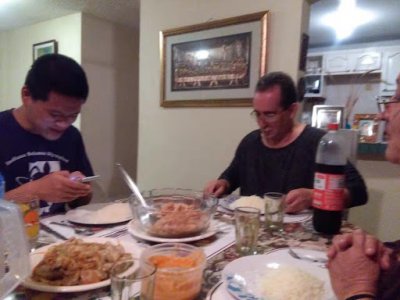 Cooking is the most special thing I can provide for them. My host parents treated me well when I lived with them. We eat together, we walk in the park together, we go to the market together, and we watch soccer games together. It was great to live with them.
-Richard