Santo Domingo with my Host Family
In January, I took a 3-day trip with my host family in Quito, Paola (host-mom) and Sammy (host-sister). It took 2.5 hours to get to Santo Domingo de los Tsachilas. We took the Cordillera de Los Andes road. This very long road goes through Argentina, Bolivia, Chile, Colombia, Ecuador and Peru.
After arriving at my host mom's mom's house (also where my host mom grew up in), we headed to the Tsachilas Mushily community. I asked why it was named "Los Tsachilas" and they explained that this province was named after the indigenous group with red-colored hair (the tsachilas or also known as Los Colorados). As discussed throughout the 8 weeks in Ecuador, they have – like many other indigenous groups- adapted to the culture around them.
When we arrived, a lady gave us a long-hour tour around their community and this added more knowledge about the indigenous population that I had previously learned about. As mentioned before, they had to adapt to another culture and make some changes.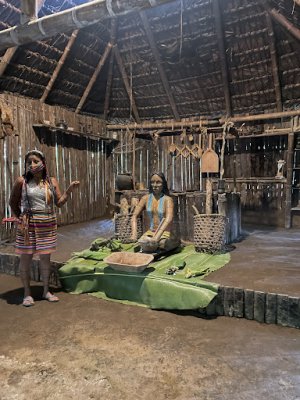 The lady giving the tour explained how it affected the way they dressed. Decades ago, neither women nor men would wear tops, since that was part of their culture. Women wear multicolored skirts (also known as tunan) and shirts, this is inspired by the rainbow. They also wear colorful hair strings made out of seeds that they grow. Men also wear a skirt called mampé tsampá, with the colors black, white, and a piece of red fabric to keep it tight around the waist. Men also use achiote to color their hair red.
The Tsachilas culture is a big part of festivities. One of the big cultural festivals they have is known as the celebration of Kasama. It welcomes the new year and it lands during Easter time. There are many decorations made with San Pedro's seed. Within their cosmovision, this is spiritual protection to the person using the piece of clothing with that decoration.
I learned that they use natural resources and consider nature as one of them. They consider nature as the base of the nuclear family and community. This experience has helped my understanding of indigenous traditions and how important it is to them to take care of our natural environment. Throughout these past weeks in Ecuador I've learned that being a resourceful community can give you a broader perspective of the world.
-Celeste