Life in Pedro Vicente Maldonado – Solomon
My service location is in Pedro Vicente Maldonado, a small city about 2 and a half hours drive from Quito in the coastal region of Ecuador. However, the coast is still quite a ways away. To Esmeraldas, the closest coastal city, takes about 3 hours driving. It doesn't take going to the beach though to encounter the beauty of the environment. The area is super green and full of life because it rains almost every day. And the people are warm hearted and always wanting to hear your story.
What is it like to be a Goshen College student here then? Well it is quite interesting. Erly, my awesome host brother, is a county board member in the local government and is in charge of a lot of cool projects, for example: water resource protection involving river cleanups, tree planting, and community actions against the polluting mining companies. In the last two weeks, I've assisted him in these efforts. One story I wanted to share was the river cleanup we did last week.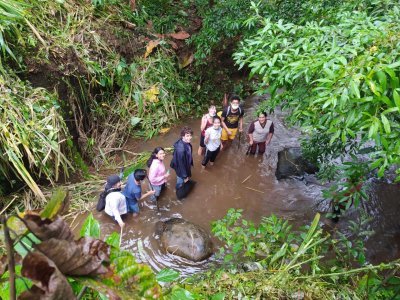 Our first task was to clean up the path going down to the stream. After we picked up all the trash, we used some vines to swing out over a steep drop off. It was pretty thrilling! Then it was time to submerge ourselves in the cool water, an act that created many laughs and screams from the whole group. We waded through the rocky winding stream for a solid kilometer or two scanning for garbage and then made our way back up to the road and a basketball court in need of some cleaning as well. Afterwards, we packed ourselves into the back of a truck and drove through the streets getting many curious looks from people. Here is us as a group after we ate lunch. Tilapia or Carne Empanada, yum!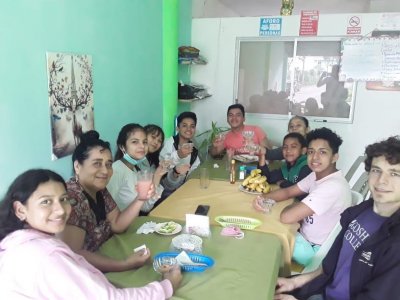 Along with coordinating actions for the environment, Erly is helping to implement a workshop for bamboo wood working in the small town here of Andoas. In addition he coordinates with organic farmers like Doña Santa and her restaurant Tierra de Tucanes to make organic food a greater part of the community. Doña is the second person on the left at the table. Erly is at the far end of the table. Erly is also a great dancer and dance instructor of a group of youth, part of which was at the river cleanup. Last night they had the opportunity to show off their talents in the center of the city. After a really fun bus ride/parade through the city with an open air bus and super loud music, they practiced one last time and then we all went back to the park and all got a little wet waiting for the rain to stop.  They did an amazing job showcasing several types of dances: a tropical salsa and bachata, a traditional Bolivian caporal dance, and a danza de Tobas. Below is a photo of the group today in their Bolivian outfits.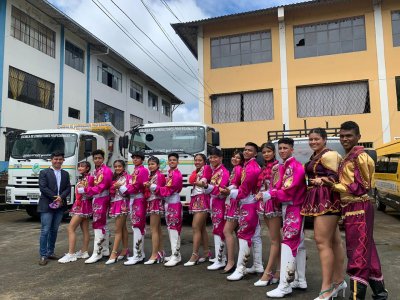 -Solomon