Mindo, where my service portion of SST is located, is between the descent from the Andes to the coast.  It is one of Ecuador's most biodiverse places with birdwatching being one of the well-known activities.  It is two hours away from the capital of Quito.  It's weather ranges from 60 degrees Fahrenheit to 75 degrees Fahrenheit with rain being very common.
My service assignment is transplanting, composting, weeding, and other various activities that may not be long-term.  For example, we have weeded in the park for one day, caught fish in a net for another, and made food for microbes by mixing milk with molasses to aid in composting.  The two activities that are consistent are working in the greenhouse and composting station.  The workers are the leaders Klever and Chela and the four volunteers including me.
We work from 8:30 a.m. to 12:30 p.m.  To transplant in the greenhouse there's a pile of soil which we mix with compost, ash, and sand.  Then we put this mixture into small or medium plastic bags, cover the root, and put more soil and compacting it before folding down the edge of the bag until it is level with the soil.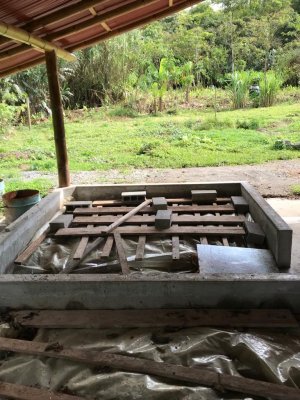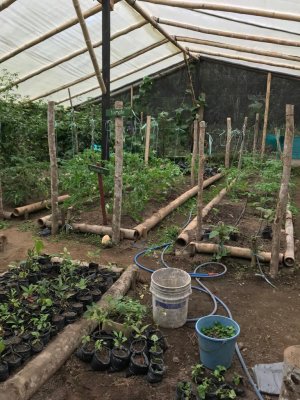 To compost, the truck dumps food scraps onto the plastic tarp we laid down, we shovel it into a nearby cement compartment lined with ash and wood chips, pick out plastic from the food scraps, fill the compartment halfway, put wood chips and micronutrient water over the scraps, put the rest of the scraps in, then cover them with wood chips, micronutrient water, plastic tarp, wood boards, and cement blocks to prevent dogs.
We wait a month before transporting compost piles and wait another two months before sifting the fine compost from the rocks, large soil chunks, and plastic.
We recently started an outside garden.  We dug the path, raked the plants away, put two bamboo logs on opposite logs, put rocks in the bed, put soil over the rocks, gathered the rest of the soil into a pile, sifted it to make black soil, put the black soil over the bed, and called it done.
-Lily