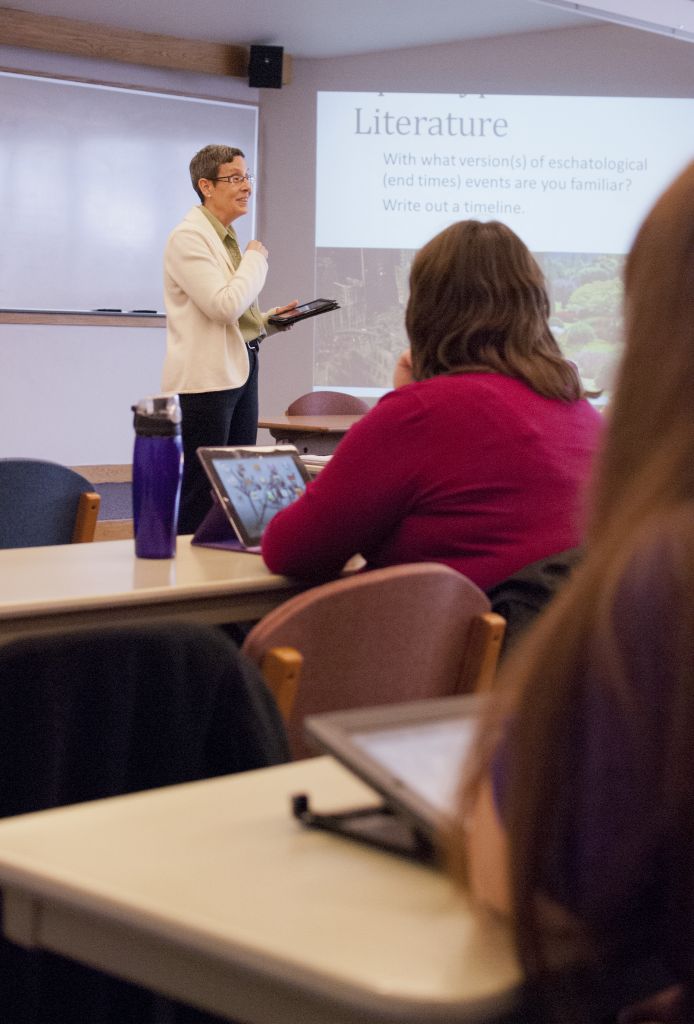 The Goshen Core uses Student Learning Outcomes as both a target for student achievement and a foundation for planning and development. 
The following learning outcomes form the basis of our curricular and co-curricular goals and address the essential knowledge, skills, and responsibilities that shape the environment we construct to support student learning. This integrative approach to learning will assist students in defining their identities and preparing them to engage twenty-first century challenges. As we continue to create a community of faith and learning, we believe that the learning outcomes must serve students in living out the five core values.
Integrative learning
Integrative learning is an understanding and disposition that a student builds across the curriculum and co-curriculum, from making connections among ideas and experiences to synthesizing and transferring learning to new, complex situations within and beyond the campus. We promote integration of learning across disciplines because we believe the acquisition and application of knowledge is most successful when shaped by various perspectives. An integrative approach highlights these realities and supports students in understanding how to select and apply appropriate techniques and methodologies for solving complex and significant problems.
The Goshen Core's explicit focus is on Integrative Learning as the primary learning outcome. As such the program has three curricular (3) "threads": 1) fundamental academic skills, 2) intercultural skills and experiences, and 3) interdisciplinary frameworks for learning and developing dispositions appropriate for integration of knowledge, skills and responsibilities. Students will begin with a first year designed to cement their fundamental academic skills and to launch them into the intercultural and interdisciplinary realms. Either an intensive or extended encounter learning about an intercultural environment will follow. Courses designed to highlight the perspectives of the following areas of study will round out the Core experience: The Religious World, The Social World, The Natural World, The Artistic World and Peacemaking.
Knowledge
In our academic and campus life programs, students will develop knowledge of:
The Christian Story: The biblical basis and theological exploration of Christian faith
Identity: Self, personal growth, and one's relationship to multiple communities
The Social World: Values and histories underlying cultures, societies, and religious traditions and the relationships between them
The Natural World: The natural created order, including the earth and its systems
The Artistic World: Forms of human thought, movement, imagination, and innovation
Peacemaking: The factors that create and sustain frameworks for the essential relationships between and among humans, God, and the natural world
Skills
In our academic and campus life programs, students will grow in their mastery of the following intellectual and practical skills:
Communication: Listening, reading, writing, speaking and interacting effectively
Quantitative literacy: Using basic mathematical concepts and operations required for problem-solving and decision-making
Inquiry: Using visual and information literacy to gather appropriate evidence from multiple data sources
Critical and reflective thinking: Analyzing, interpreting, evaluating and using evidence to make good judgments
Problem solving: Working individually and collaboratively for creative solutions
Intercultural competence: Acquiring language and cross-cultural communication skills to interact effectively with people from diverse communities
Responsibilities
In our academic and campus life programs, students will develop a sense of personal and social responsibility for:
Faith in Action: Reflecting on the relationship between personal faith and life choices that support God's justice, reconciliation, and peace
Ethical reasoning: Living and serving with integrity in a variety of communities
Intercultural openness: Creating partnerships with people across difference to learn from one another and work towards equity
Local and global community engagement: Understanding human systems and knowing how to bring about change peacefully
Lifelong learning: Remaining curious and occupying an inquiry stance in the face of challenges to current understandings of oneself and of the world
Living Sustainably: Working to create restorative relationships with the natural world
Approved by faculty vote: Sept. 22, 2011