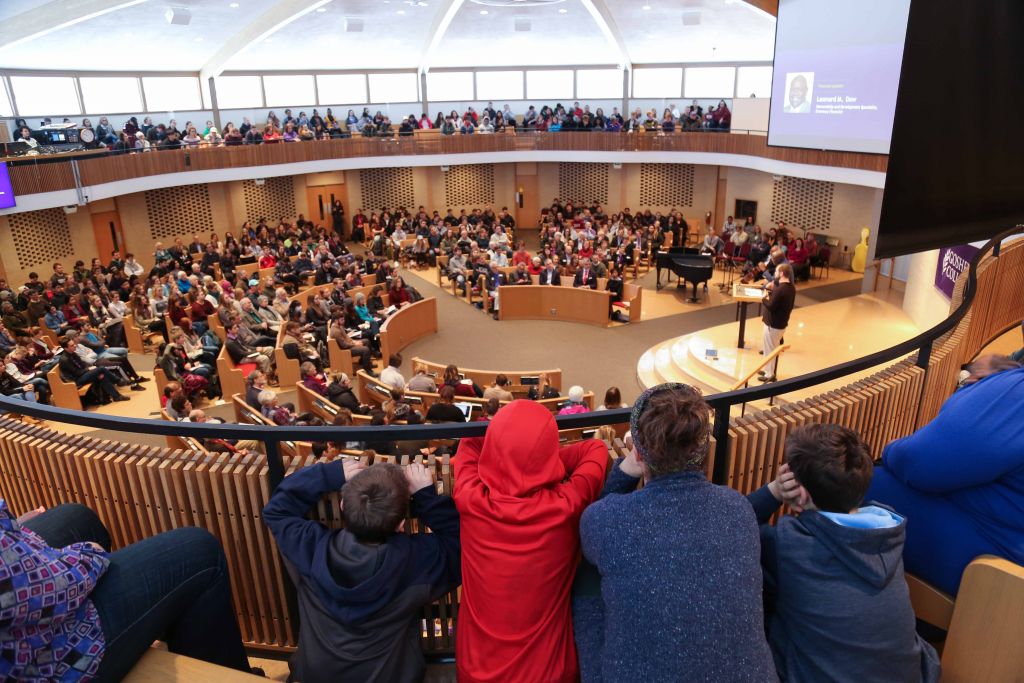 Each year Goshen College honors the life and work of Martin Luther King, Jr. by holding an all-school study day, emphasizing the values and ideals that characterized King's work.  This weekend's events are sponsored by Goshen College and College Mennonite Church.
2019 King Celebration
"King: The Man, The Motive, The Movement"
Featured Weekend Speaker: Dr. LaKendra Hardware
Associate director of student life for diversity, equity, & inclusion, Goshen College
Schedule of Events:
Wednesday, Jan. 16, 2019
Convocation
10 a.m., College Mennonite Church, Chapel
This is a time during our regularly scheduled convocation hour to hear a special address from President Rebecca Stoltzfus and an update on the work of the Diversity, Equity, and Inclusion Taskforce.
Sunday, Jan. 20, 2019
Sermon
9:30 a.m., College Mennonite Church, Chapel
Jesus: The Model for Movement
Dr. LaKendra Hardware
Sermon Discussion
11 a.m., College Mennonite Church, Chapel
Coffeehouse Performance
7-9 p.m., Sauder Concert Hall, Music Center
Students will perform poetry, prose and music during a coffeehouse performance, including readings from award-winning poet and featured artist Tiana Clark in collaboration with the S.A. Yoder Lecture Series.  A reception will follow.  Free admission and open to the public.
Monday, Jan. 21, 2019
Dr. Martin Luther King, Jr. Convocation- King: The Man, The Motive, The Movement
10-11:45 a.m., College Mennonite Church, Chapel
Dr. LaKendra Hardware, with students Terra Kincy '21, and Clinton Stroble '19

Breakout Sessions
2:15-3:45 p.m., College Mennonite Church
Breakout Session A, Koinonia Room: Processing Space- This session will offer participants space to reflect and process the impact of our King Celebration events from Sunday and Monday.
Breakout Session B, North Fellowship Hall: Me in the Movement- This session places the call to act and impact back on the community.  Participants will consider the question, "What will I do to carry the movement forward?"
Candlelight Vigil
6:30 p.m., Schrock Plaza
In collaboration with Black Student Union, Student Ministry Team, and Campus Ministries.  Join together for hot chocolate immediately following the vigil.
(More event times and locations to be announced. Check back regularly for updated information)
*Students may receive up to 3 convocation credits throughout the weekend. Convocation credit is available for all of the events listed above.
---

Rev. Martin Luther King Jr. visited Goshen College on March 10, 1960. At the time, King was leading the struggle for racial equality throughout the South.
Past MLK Jr. Study Days
2018 – Guest: Leonard Dow
2017 – Guest: Sarah Thompson
2016 – Guests: Sofia Samatar and Drew Hart
2015 – Guests: Ewuare Osayande and Rev. Kanyere Eaton
2014 – Guests: Anthony Brown and Rebecca Kubacki
2013 – Guests: Dr. Wilbert Smith and Dana Johnson
2012 – Guest speaker: Vincent Harding
2011 – Guests: African-American religious historian Dr. Quinton Dixie and Latino fiction writer Manuel Luis Martinez
2010 – Guests: baritone Anthony Brown, Latina poet Brenda Cárdenas and the Indianapolis youth-led group Latino Youth Collective
2009 – Guests: director of the Indiana University-South Bend Heritage Center Monica Tetzlaff and Triple G Mime Group
2008 – AfriCaribe and African-American theologian Dwight N. Hopkins