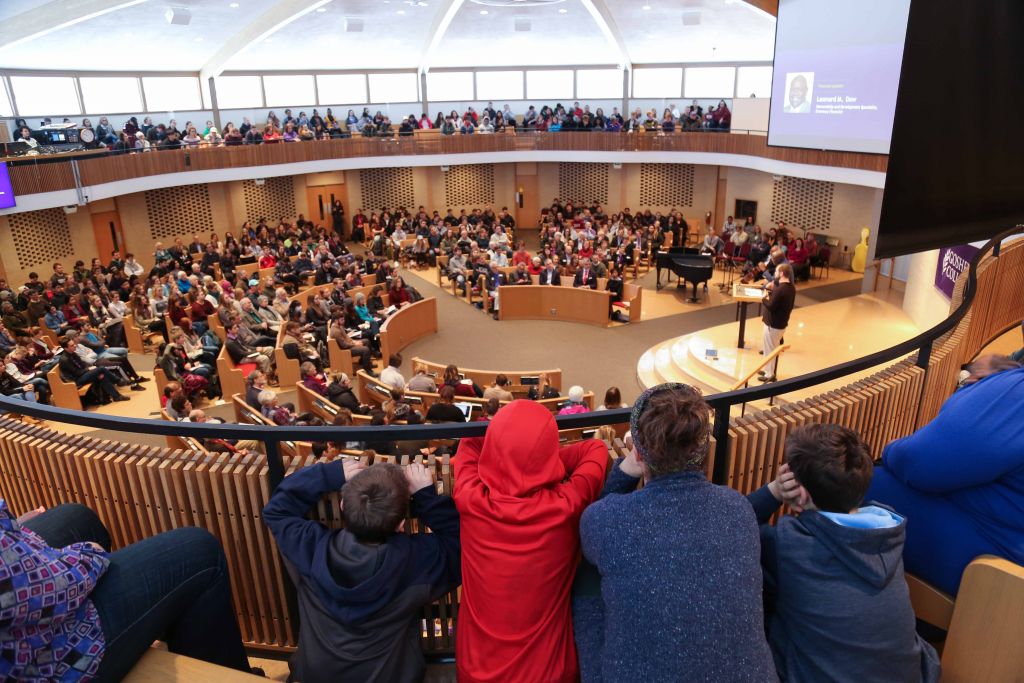 Each year Goshen College honors the life and work of Martin Luther King, Jr. by holding an all-school study day, emphasizing the values and ideals that characterized King's work.  This weekend's events are sponsored by Goshen College and College Mennonite Church.
2020 King Celebration
"Unapologetically Just: Rooted in the Way of Jesus"
→ See photos from Goshen College's 2020 King Celebration events
---
Schedule of Events:
Sunday, Jan. 19, 2020
Sermon
9:30 a.m., College Mennonite Church, Chapel

Sermon Discussion
11 a.m., College Mennonite Church, Chapel
"Justice Acts" Performance*
7-9 p.m., Sauder Concert Hall, Music Center
This program includes theater scenes, music performances and monologues showcasing a vision of uniting voices through the arts at Goshen College.

Monday, Jan. 20, 2020
Dr. Martin Luther King, Jr. Convocation: Guest speaker: Dr. Regina Shands Stoltzfus, "Justice Speaks"*
10-11:45 a.m., College Mennonite Church, Chapel

Call to Justice Breakout Sessions*
1 p.m., College Mennonite Church, Fellowship Hall and Koinonia Rooms
2:15 p.m., College Mennonite Church, Fellowship Hall

Candlelight Vigil
6:30 p.m., Church-Chapel
(More event times and locations to be announced. Check back regularly for updated information)
*Students may receive up to four convocation credits throughout the weekend. Convocation credit is available for events listed with an asterisk (*).
About Dr. Regina Shands Stoltzfus
Dr. Regina Shands Stoltzfus began teaching at Goshen College in 2002 and teaches courses in race, class and ethnic relations; personal violence and healing; peacemaking; women and gender studies; biblical studies; and transforming conflict and violence. She attended Goshen College and earned a bachelor's degree in English from Cleveland State University in 1988. In 2001, she earned a master's degree in biblical studies from Ashland Theological Seminary and a Ph.D. in theology, ethics and contemporary culture from Chicago Theological Seminary.
Shands Stoltzfus previously served as an associate pastor at Lee Heights Community Church in Cleveland, Ohio, as campus pastor at Goshen College, as minister of urban ministries with Mennonite Mission Network, as staff associate for urban peacemaking with Mennonite Conciliation Service and as director of admissions at Anabaptist Mennonite Biblical Seminary. She is a co-founder of the Damascus Road anti-racism education program, now called Roots of Justice Anti-Oppression program, and regularly leads anti-racism workshops. She serves on the steering committee for the Women in Leadership Project and on the Panel on Sexual Abuse Prevention with Mennonite Church USA. She co-authored the book "Set Free: A Journey Toward Solidarity Against Racism" (Herald Press, 2001). She is an active writer for The Mennonite, Sojourners and other print and online publications.
In 2016, Shands Stoltzfus was awarded the State of Indiana Civil Rights Commission's (ICRC) Spirit of Justice Award, the commission's highest honor.
---

Rev. Martin Luther King Jr. visited Goshen College on March 10, 1960. At the time, King was leading the struggle for racial equality throughout the South.
Past MLK Jr. Study Days
2019 – Guests: Tiana Clark and Dr. LaKendra Hardware
2018 – Guest: Leonard Dow
2017 – Guest: Sarah Thompson
2016 – Guests: Sofia Samatar and Drew Hart
2015 – Guests: Ewuare Osayande and Rev. Kanyere Eaton
2014 – Guests: Anthony Brown and Rebecca Kubacki
2013 – Guests: Dr. Wilbert Smith and Dana Johnson
2012 – Guest speaker: Vincent Harding
2011 – Guests: African-American religious historian Dr. Quinton Dixie and Latino fiction writer Manuel Luis Martinez
2010 – Guests: baritone Anthony Brown, Latina poet Brenda Cárdenas and the Indianapolis youth-led group Latino Youth Collective
2009 – Guests: director of the Indiana University-South Bend Heritage Center Monica Tetzlaff and Triple G Mime Group
2008 – AfriCaribe and African-American theologian Dwight N. Hopkins