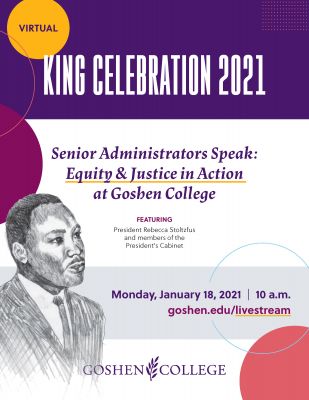 Each year Goshen College honors the life and work of Martin Luther King, Jr. by holding an all-school study day, emphasizing the values and ideals that characterized King's work.
2021 Virtual King Celebration

What: King Celebration Convocation, "Senior Administrators Speak: Equity & Justice in Action at Goshen College"
When: Monday, Jan. 18 at 10 a.m.
Why: Honoring Dr. King and answering a call to action at Goshen College
How: Pause in the day, reflect with us, commit to the work
President Rebecca Stoltzfus and members of the President's Cabinet shared perspective, reflection and commitment to the work of equity and justice in our institution. As we pause to reflect on our institutional justice work, let us begin to envision how we can respond individually and collectively to this call to action.
→ Read President Stoltzfus' speech
→ Read the news release about the event
---

Read about when Rev. Martin Luther King Jr. visited Goshen College on March 10, 1960
At the time, King was leading the struggle for racial equality throughout the South.
---
Past MLK Jr. Study Days
2021 – Speaker: President Rebecca Stoltzfus and "Senior Administrators Speak: Equity & Justice in Action at Goshen College"
2020 – Speaker: Regina Shands Stoltzfus
2019 – Guests: Tiana Clark and Dr. LaKendra Hardware
2018 – Guest: Leonard Dow
2017 – Guest: Sarah Thompson
2016 – Guests: Sofia Samatar and Drew Hart
2015 – Guests: Ewuare Osayande and Rev. Kanyere Eaton
2014 – Guests: Anthony Brown and Rebecca Kubacki
2013 – Guests: Dr. Wilbert Smith and Dana Johnson
2012 – Guest speaker: Vincent Harding
2011 – Guests: African-American religious historian Dr. Quinton Dixie and Latino fiction writer Manuel Luis Martinez
2010 – Guests: baritone Anthony Brown, Latina poet Brenda Cárdenas and the Indianapolis youth-led group Latino Youth Collective
2009 – Guests: director of the Indiana University-South Bend Heritage Center Monica Tetzlaff and Triple G Mime Group
2008 – AfriCaribe and African-American theologian Dwight N. Hopkins