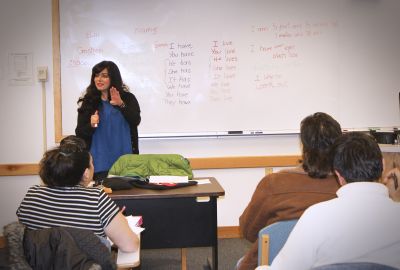 By Patrick Coonan, coordinator Adult ESL Program
Language is one of the most fundamental aspects of our identities, cultures, and daily lives. It is the medium that we use to understand ourselves and our world, and to forge relationships with others. It also serves as the central mechanism that we use to access the resources that we need to live a fruitful life. Those of us who have found ourselves in a situation where we didn't speak the language understand that language can serve not only as a bridge and as a facilitator, but also as a potential barrier.
In February 2016, dozens of immigrants in the Goshen and Elkhart area affirmed their desire to learn English as a bridge to the broader community by registering for English language classes with the Center for Intercultural and International Education (CIIE). This second iteration of the Adult English as a Second Language Program, which was first piloted by the CIIE in the winter and spring of 2015, offers English language learners over 100 hours of classroom instruction over 12 weeks and a structured curriculum that emphasizes real world communication. Three classes are being offered–one at the orientation level, and two at the basic level–with the hope that higher level classes will be incorporated in future sessions.
Offering English language classes to immigrant members of our community affirms the commitment of the CIIE to strengthening relationships, deep connections, respect and learning among members of our community. It is a testament to the central role that language plays in reciprocal relationships among and between cultures, and offers Goshen College an opportunity to forge stronger ties with immigrant families in our community into the foreseeable future.