Living history and culture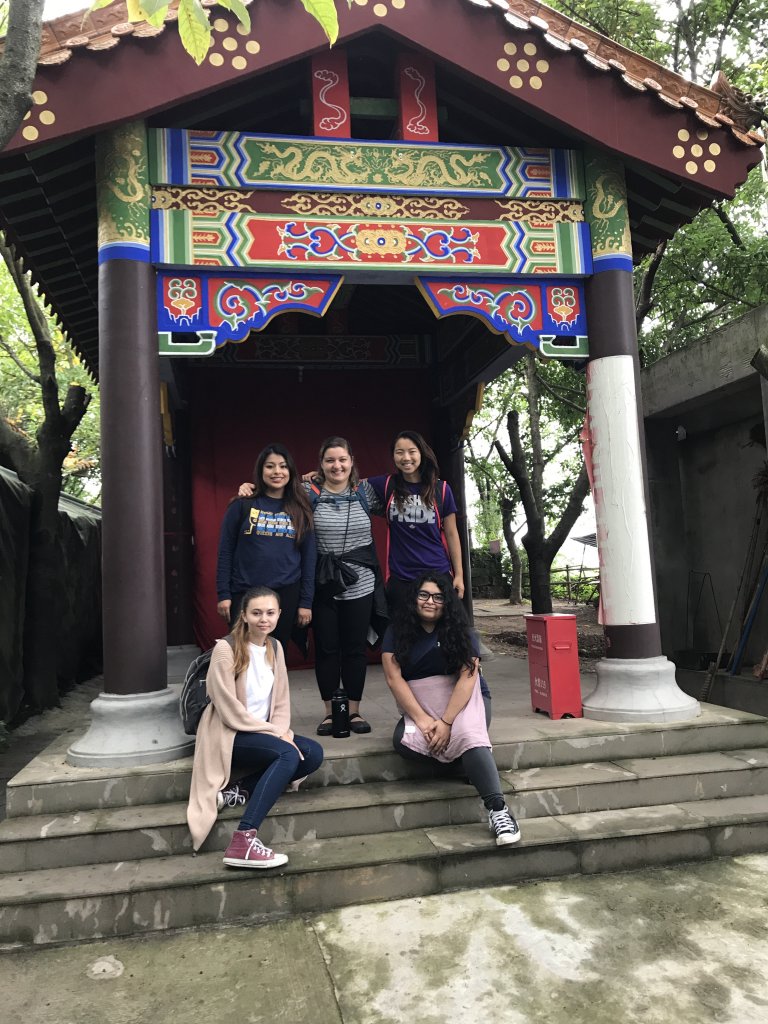 Week Four of our Study-Service Term in China was reminiscent of a familiar academic phenomenon: the increasing weariness that sets in as a mid-term recess approaches. The accumulation of input and content becomes weighty in combination with the routines, deadlines, and experiences that drive forward. An impending holiday – in this case National Week in China – heightens the anticipation of a needed break.
In addition to morning language classes, the week included afternoon sessions on Chinese literature, Deng Xiaoping, Confucianism, and Tai chi. Topics and readings blend the old and modern China we see all around us. We marvel at how it came to be, at how the past influences the present in a country with such a vast and complex history.
We also had a visit from Tom Meyers, Director of International Education at Goshen College. He held meetings with the students, with our local coordinator Wang Ying, and with leaders of the university's Foreign Affairs Office. After Tom's departure and our weekly gathering on Friday afternoon, we walked to the large stadium for the culminating ceremony of the military training that took place on both campuses this past month. In departmental groupings, university freshmen were given a charge to begin their higher education and then marched in formation to be presented to university officials. Before the event we talked about the possible juxtaposition of our curiosity around this ritual and our views on militarism and nationalism. We noted admirable aspects such as group formation, individual discipline, precision-training, and social interaction in this mandatory start to university study in China, and wondered what academia in the Western world could learn from this. Seeking understanding of traditions and values that may be quite distinct from our own sometimes requires the suspension of self and judgment that we aim for on SST. This aspirational skill is one we can no doubt apply to experiences in our future communities.
Here is a short video from the event. The instrumental piece used in the marching has been the soundtrack of our first month, with groups of freshmen in training all over the old and new campuses. Some of us think we are hearing it even when it's not playing.
Earlier in the week many of the SSTers attended a more informal show welcoming freshmen to campus in a small amphitheater. One group of Goshen students captured the arrival of some others across the theater – this short video is an example of the attention foreigners sometimes receive in Nanchong.
Because the week was not tiring enough (insertion of one of dozens of ironic emojis used in our group WeChat) we met on Saturday morning on old campus for a day trip. Professor He Muying, who gave us a detailed introduction to Daoism and Feng shui earlier this term, and some of her students accompanied us to Lingyun Mountain on the far eastern edge of the Nanchong municipal border. The park at Lingyun Mountain was established in the 1990s to preserve and teach about Feng shui. He Muying, who just published a gorgeous new book about Lingyun Mountain, works as a volunteer for the park. She helped us consider the coexistence of Daoist, Buddhist, and Confucian philosophies in the mountain in relation to the desired harmony of humans and nature. We saw Buddhist temples, several rock carvings of Buddhas, and ancient mountain caves where monks go to meditate at length. We viewed Feng shui elements in the mountain ridges – the azure dragon to the east, the vermillion bird to the south, the white tiger to the west and the black tortoise to the north. We then made our way to the Daoist temple where we met with a Daoshi (a master of the Tao or priest of Daoism), who answered our questions about this indigenous philosophy and religion. Our final stop was the awe-inspiring bāguà 八卦, eight trigrams representing interrelated principles of reality. There we found the capture of qì  气 (life force or energy flow) and wandered within the trigrams' fusion of yin and yang.
Today, October 1, is National Day in China, and marks the beginning of an eight-day holiday for the entire country. All schools, government offices, and many businesses are closed. A few students are on short trips with their families but most are staying in the city through Wednesday's Mid-Autumn Festival celebrations. This is the second most important festival after Chinese New Year, a time to celebrate peace and family, with mooncakes the featured delicacy. On Thursday the group will begin an excursion to the western part of Sichuan province for the remainder of our holiday week.
国庆节快乐!