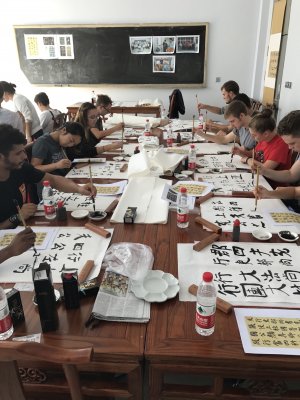 After the first full week of the study portion we have a weekend of rest. An optional Saturday activity to climb West Mountain was postponed due to today's rain, but we may try again tomorrow. A highlight this week was welcoming Amy who was on campus by Wednesday noon after her journey to Chengdu and Nanchong. She jumped right into the program, and we tend to forget that she didn't have the rest and orientation we had early on. Here she is with her host dad, an ecology professor here at CWNU, and with Cornelius, Yadira and Abe.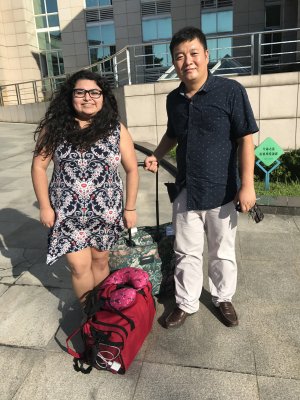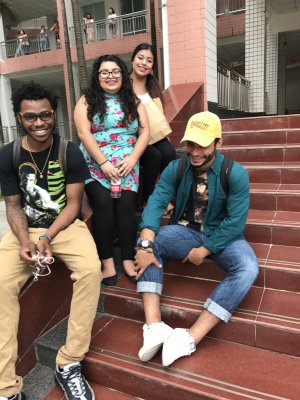 We have settled into a daily routine that will vary from time to time but generally includes morning Chinese language class for two and a half hours followed by a long lunch break. Lunch is found at one of the cafeterias on campus or in one of many restaurants across the street. The student-run coffee shop is a nice place to study before our two-hour afternoon lecture. This week our topics included the geography of China, the first of two-session series on calligraphy and dance, and an overview of pre-modern Chinese history. We are very fortunate to be able to access the network of scholars here at China West Normal.
On Friday morning we participated in a ceremony welcoming new students to campus. Along with other international students overseen by the Foreign Affairs Office, we walked in a procession to the square in front of the large Chaoyang classroom building.  We heard speeches from the university president, an alum who now teaches at Sichuan University, and a representative from the faculty. As my family left old campus earlier that morning, we noticed a similar ceremony being prepared there. For a month all frosh in universities throughout China will participate in required military training on their campuses before beginning their classes.
After our dance class Friday afternoon, we gathered at Peace in China for our weekly meeting. We call this time 高深会 (Gāo Shēn Huì) for "Goshen Gathering." The terms gāo and shēn came from a Chinese linguist who was asked to give a name to the college when it began its program in China in 1980. Gāo means high and shēn means deep; President Burkholder noted at the time, "I would hope that these words may help communicate to the Chinese what Goshen College is really like. In particular, I would hope that the word for 'deep' may refer to a dimension of depth that is expressed particularly in the sensitivity and seriousness with which Goshen College is committed to [engaging Chinese people]." This year our assistant Wang Ying suggested the term huì as one that refers to a meeting or gathering. These weekly meetings are a time to have fun, cover important logistics, reflect on what we are learning, and worship together. It turns out this group can really sing!
We talked last night about the distance we feel from events across the globe. Skye's family and friends experience the devastation of the Eagle Creek fire in Portland while Amy's family is still recovering from flooding in Houston. We watch new hurricanes hit the Caribbean and approach Florida as a powerful earthquake strikes Mexico's southern coast. National politics and policies that impact people we love are on our minds. We ponder what it means to be here while storms and fires, both literal and figurative, rage back home. What will we learn from the history, culture and people of China that that will help us better understand our responsibilities when we return home in a few months?
Our individual and group experiences are marked by small moments that can be packed with meaning and learning. As challenging as it is to not fully understand or to not always feel like our normal selves because of language barriers, we may better notice non-verbal signals as a result. SSTers are overwhelmed by their host families' eagerness to teach. One student wrote that he has learned to "follow Grandpa's cues. Grandpa doesn't say much but he just knows." One host mom invited her student to ask her anything, noting that she may have been told things about Chinese people that are not accurate. Host families are invested in helping with language learning, proving tenacious when teaching the correct pronunciation of a term and bringing home extra books to help with vocabulary.
In this journey we are committed to respecting and seeking understanding rather than judging cultural differences. And yet, although there are differences, we are constantly struck by the diversity found among the Chinese people we have met, and by the commonalities in human experience and expression we see. Being here opens our minds to cultural difference while deepening our awareness of our common humanity.