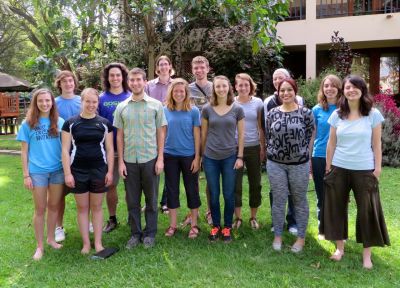 All 14 Goshen College students of the 2014 Kenya Conservation and Research Methods in Savannas class arrived safely last night.  After three trips to the airport, the last at 2:00 a.m., the students enjoyed a short night of sleep at the Mennonite Guest House in Nairobi.
Today's plan is to rest, recuperate, and orient ourselves to the pulse of life here in Kenya. Students awoke for breakfast at 7:30 a.m., played soccer in the yard, enjoyed tea and orientation under the gazebo, walked to Westlands after lunch and relaxed in the guesthouse gardens.
Tomorrow we will make the 4 hour trip to Laikipia, the district in which Mpala Research Centre is based.  This will be our home for the next 3 weeks. Stay tuned for more updates as we settle into our routine.
– Ryan for the team