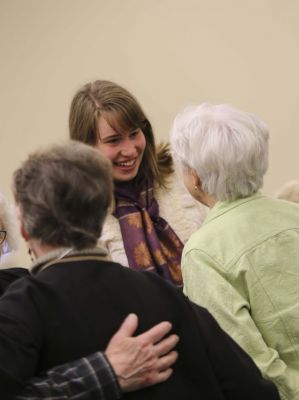 Grandparents Day is now part of Homecoming Weekend! Grandparents, parents and siblings of current students are invited to campus for this exciting reunion weekend
---
Grandparent's Day 2015
>>See photos from Grandparents Day 2015
>> See family portraits
Friday, Nov. 6, 2015
Grandparents Day is dedicated to honoring the relationships between Goshen College students and their grandparents and recognizes the influence that grandparents have on a younger generation. Through a campus visit, the day also provides the grandparents an opportunity to get a taste of their grandchild's college experience. Our hope is that grandparents will see for themselves the great things happening at Goshen College. Please note: the campus visit is also open to other senior adults who fill a grandparent role for a current student.
A full day is planned for grandparents including a reception with President Brenneman, time to attend a class, have lunch with their grandchild and other optional activities.
$15 per person for Friday campus events including breakfast and lunch. Register online, or call 574-535-7564 to register by phone by October 29, 2015.
---
Schedule – Friday, Nov. 6, 2015
Click here for a printable PDF schedule
9 – 10 a.m.
Grandparents Day check-in, Church-Chapel  
Please park south of the Church-Chapel and enter through the south doors. Check in at the table and pick up your name tag and tickets.
9 – 10 a.m.
Continental breakfast, Church-Chapel Fellowship Hall
Following check-in, this is a good time and place to meet your grandchild before joining them for chapel.
10 – 10:30 a.m.
Chapel, Church-Chapel Sanctuary
Join your grandchild and the campus community in worship.
10:30 – 11:30 a.m. (immediately following chapel service)
President's reception, Church-Chapel Fellowship Hall
Meet President Jim Brenneman, and be sure to have your photo taken with the president and your grandchild! Come and go if you wish to join your grandchild for their 11 a.m. class.
11:30 a.m. – 1 p.m.
Lunch, Westlawn Dining Hall    
Enjoy lunch with your grandchild and experience the variety in today's college cafeteria offerings. (No ticket required. Give your name to the dining hall host.)
12 – 1 p.m.
Student music recitals, Music Center's Rieth Recital Hall
1 – 5 p.m.
You may choose to attend a class with your grandchild during this time. Please discuss this option with them ahead of time. As a courtesy to professors and to ensure there is room for visitors, your grandchild will need to speak with his or her professor about your classroom visit before Grandparents Day.
Other activities during this time are listed below:
1 – 3 p.m.
Campus tours, Welcome Center  
Join up with one of our student ambassadors for a walking tour of campus. Choose a 50 minute comprehensive tour, or a shortened 30 minute tour (excludes Recreation-Fitness Center and Music Center). Tours leave the Welcome Center at 1, 1:30, 2 and 2:30 p.m. Need a lift for the tour? Request a golf cart ride on the registration form.
3 – 5 p.m.
Special faculty lectures / presentations
Several teaching and administrative faculty have prepared special presentations in honor of your visit. Choose from the options below:
Diversity at Goshen College: Why it Matters | Gilberto Perez Jr., Senior Director of Intercultural Development & Educational Partnerships
This presentation will focus on the work being done by the intercultural team at the Center for Intercultural and International Education. Learn how the intercultural team is creating spaces for discussions across differences. Stories will be shared of how community engagement with the Latino, African American and Asian American is opening doors for further diversifying Goshen College, and why this is important.
Inside Out: College Students and Inmates Learning Together | Carolyn Schrock-Shenk, Associate Professor of Peace, Justice & Conflict Studies; Glenn Gilbert, Utilities Manager and Sustainability Coordinator
What happens when college students and prison inmates come together to learn from and with each other in a classroom deep inside a large correctional facility? Come learn about GC's very successful implementation of the "Inside Out Prison Exchange Program" from co-instructors, Schrock-Shenk and Gilbert, and hear how the program has grown.
Mennonite Historical Library Treasures | Joe Springer, Curator: Mennonite Historical Library
Springer will introduce some of the treasures in GC's Mennonite Historical Library, including several rare texts. Discover the resources available to you for researching your own regional and family history.
Music Center Wonders: Behind the Scenes | Brian Mast, Music Center Managing Director
See the Music Center as never before! Get a behind-the-scenes tour of this exceptional facility with Mast, and hear what it was like to host Garrison Keillor's A Prairie Home Companion live from Sauder Concert Hall. You'll also learn about the community programs offered through the Music Center, and the distinctive features of the Taylor & Boody Opus 41 pipe organ in Rieth Recital Hall. (Stay afterward for a student-led hymn sing in Rieth Recital Hall at 4:15.)
Radio, Video, Television, Oh My! | Jason Samuel, Assistant Professor of Communication and WGCS General Manager; Kyle Hufford, Assistant Professor of Communication and FiveCore Media General Manager; David Kendall, Associate Professor of Communication and Correspondent Advisor
Get a behind-the-scenes look at the hands-on opportunities available for students in the Communication Department. Hear about award-winning programs in The Globe radio and The Correspondent television news. See some projects by FiveCore Media, the GC video production company, and hear about the connections made with the city of Goshen. And if you're up to climbing the stairs, watch a WGCS, 91.1 The Globe student deejay in action.
4:15 – 5 p.m.
Hymn sing, Music Center's Rieth Recital Hall
Join the student-led GC Hymn Club in a rousing hymn sing. Listeners as well as singers are welcome.
Optional activities available throughout the day
8 a.m. – 5 p.m.
Good Library Gallery Exhibit: "Dismantling the Doctrine of Discovery," Good Library, lower level (elevators available)
This exhibit shows how the Doctrine of Discovery legalized the theft of land, labor and resources from indigenous peoples.
Hershberger Art Gallery Exhibit: "Wanderlust: Paintings by Ann Marie Nafziger," Hershberger Gallery, Music Center
Paintings on canvas and paper by 1994 GC alumna.
Prayer Labyrinth and Memorial Bench
Lawn northeast of East Hall, and southwest of the Music Center, close to Kratz/Miller/Yoder Halls
Pick up brochure at morning check-in.
9 a.m. – 4 p.m.
Campus Bookstore
More than textbooks. Come on in and browse. Be sure to check out the Goshen College grandparent t-shirts!
Open 7:30 a.m. – 4:30 p.m. and 7:30 – 11 p.m.
Java Junction, Connector
Come relax at Java Junction for a hot cup of coffee/tea and snack. This is also a good place to meet up with your grandchild.
4 p.m.
Women's basketball, GC vs. Trinity Christian College, Rec-Fitness Center
5 – 6:30 p.m.
Dinner, Westlawn Dining Hall or Downtown Goshen
Want to spend more time with your grandchild? Meals can be purchased at the dining hall during dinner hours. Cash or credit card only ($9.05 plus tax). Or, your grandchild may prefer going out to dinner and taking in First Fridays, a popular community event in downtown Goshen. Ask them!
6 p.m.
Best Western Hoopfest: Men's basketball, GC vs. Moody Bible Institute, Rec-Fitness Center
7:30 p.m.
GC Symphony Orchestra Fall Concert, Music Center's Sauder Concert Hall
Jose Rocha, Conductor
No charge when you pre-register; pick up tickets at morning check-in.
Saturday, Nov. 7
(Optional, if you are still in town)
1o:30 & 11:30 a.m.
Women's (10:30 a.m.) and Men's (11:30 a.m.) Cross Country Conference Championships, Huntington University
2303 College Ave. Huntington, IN 46750 (course is north of campus off Grogg and Stults Roads)
3 p.m.
Best Western Hoopfest: Men's basketball, GC vs. Lawrence Technological University, Rec-Fitness Center
Volleyball, women's and men's soccer may be in conference tournament play; time and place to be announced.
Lodging
Blocks of rooms have been held at Holiday Inn Express & Suites. To get the group rate, identify yourself as guest of Goshen College Grandparents Day, and use group code: GGC 

Holiday Inn: $84.99 double occupancy + tax. Call 574-535-9200
Make your lodging reservations by Oct. 22, when rooms will be released to the public. 
To Register For Grandparents Day
Please discuss your plans with your student/grandchild AHEAD OF TIME, since some students' schedules might limit the amount of time they can spend with you.
$15 per person for Friday campus events including breakfast and lunch. Click here to register online, or call 574-535-7564 to register by phone by October 29.