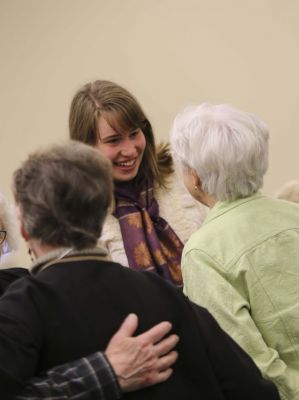 Click here to view photos from Grandparents Day 2014!
Grandparents Day is dedicated to honoring the relationships between Goshen College students and their grandparents and recognizes the influence that grandparents have on a younger generation. Through a campus visit, the day also provides the grandparents an opportunity to get a taste of their grandchild's college experience. Our hope is that grandparents will see for themselves the great things happening at Goshen College. Please note: the campus visit is also open to other senior adults who fill a grandparent role for a current student.
A full day is planned for grandparents including a reception with President Brenneman, time to attend a class, have lunch with their grandchild and other optional activities.
$15 per person for Friday campus events including breakfast and lunch. Click here to register online, or call 574-535-7564 to register by phone by October 29, 2014. Click here to see the brochure.
---
Schedule – Friday, Nov. 7, 2014
9 – 10 a.m.
Grandparents Day check-in, Church-Chapel  
Please park south of the Church-Chapel and enter through the south doors. Check in at the table and pick up your name tag and tickets.
9 – 10 a.m.
Continental breakfast, Church-Chapel Fellowship Hall
Following check-in, this is a good time and place to meet your grandchild before joining them for chapel.
10 – 10:40 a.m.
Chapel, Church-Chapel Sanctuary
Join your grandchild and the campus community in worship and hear a meditation by President Jim Brenneman.
10:40 – 11:30 a.m. (immediately following chapel service)
President's reception, Church-Chapel Fellowship Hall
Meet President Jim Brenneman, and be sure to have your photo taken with the president and your grandchild! Come and go if you wish to join your grandchild for their 11 a.m. class.
12 – 1 p.m.
Lunch, Westlawn Dining Hall    
Enjoy lunch with your grandchild and experience the variety in today's college cafeteria offerings. (No ticket required. Give your name to the dining hall host.)
1 – 5 p.m.
You may choose to attend a class with your grandchild during this time. Please discuss this option with them ahead of time. As a courtesy to professors and to ensure there is room for visitors, your grandchild will need to speak with his or her professor about your classroom visit before Grandparents Day.
Other activities during this time are listed below:
1 – 3 p.m.
Campus tours, Welcome Center  
Join up with one of our student ambassadors for a walking tour of campus. Choose a 50 minute comprehensive tour, or a shortened 30 minute tour (excludes Recreation-Fitness Center and Music Center). Tours leave the Welcome Center at 1, 1:30, 2 and 2:30 p.m. Need a lift for the tour? Request a golf cart ride on the registration form.
3 – 5 p.m.
Special faculty lectures / presentations
Several teaching and administrative faculty have prepared special presentations in honor of your visit. Choose from the options below:
Study-Service Term (SST) in Peru: More than Machu Picchu
Richard R. Aguirre, Director of Corporate and Foundation Relations; Judy Weaver, Academic Counselor
Enjoy a lively and photo-rich presentation of SST in Peru by 2013-14 Co-Directors Richard R. Aguirre and Judy Weaver. Learn why many students consider their semesters abroad of learning and service the toughest, most rewarding and sometimes strangest experience of their lives.
Inside Out: College Students and Inmates Learning Together
Carolyn Schrock-Shenk, Associate Professor of Peace, Justice & Conflict Studies; Glenn Gilbert, Utilities Manager and Sustainability Coordinator
What happens when 12 college students and 12 prison inmates come together to learn from and with each other in a classroom deep inside a large correctional facility? Come learn about GC's very successful implementation of the "Inside Out Prison Exchange Program" from co-instructors, Schrock-Shenk and Gilbert, and hear about its future plans.
Menno Tea: a Savory Tale
Hans Weaver, Enrollment counselor and entrepreneur
Meet Menno Tea co-founder, Hans Weaver '13, and hear the story of how this popular drink developed from an idea brewed in a dorm room. Hans will describe how Menno Tea won a business start-up entrepreneurship grant, market-launched in GC's coffee bar, Java Junction, and now is being sold in the Midwest and the East Coast.
Mennonite Historical Library Treasures
Joe Springer, Curator: Mennonite Historical Library
Springer will introduce some of the treasures in GC's Mennonite Historical Library, including several rare texts. Discover the resources available to you for researching your own regional and family history.
What's New in Nursing?
Brenda Srof, Professor of Nursing, Director of BS in Nursing; Gail Weybright, Associate Professor of Nursing; Nursing students
From its inception in 1950 as Indiana's first liberal arts college to offer a Bachelor of Science degree in nursing, the GC nursing department continues its outstanding tradition, producing nursing graduates who are a cut above the rest. Listen to nursing faculty highlight their programs, and hear from nursing students about the hands-on learning they experienced during a first-ever May term course in Nepal this past May.
Music Center Wonders
Marcia Yost, Music Center Executive Director; Deb Kauffman, Music Center Associate Director; Brian Mast, Music Center Managing Director
Meet Marcia Yost and her staff and get a glimpse into this exceptional facility and its programs. Kauffman will highlight the successful research-based, internationally recognized Music Together program and its far-reaching effect on community schools, children and families. Mast will take you on a tour of the state-of-the-art Music Center, where among its distinctive features, you will see the beautiful Sauder Concert Hall and hear the Taylor & Boody Opus 41 pipe organ played by a student in Reith Recital Hall.
Optional activities available throughout the day
8 a.m. – 5 p.m.
Good Library Gallery Exhibit: "Mennonite Identity in Mugs, Plates and T-Shirts: Documents Mennonites' use of commercially produced objects to project cultural and religious identity," Good Library, lower level (elevators available)
Goshen College Art Faculty Show
Hershberger Gallery, Music Center
Prayer Labyrinth and Memorial Bench
Lawn northeast of East Hall, and southwest of the Music Center, close to Kratz/Miller/Yoder Halls
Pick up brochure at morning check-in.
9 a.m. – 4 p.m.
Campus Bookstore
More than textbooks. Come on in and browse. Be sure to check out the Goshen College grandparent t-shirts!
> Goshen College Grandparent t-shirt only $14.95
Open 7:30 a.m. – 4:30 p.m.
Java Junction, Connector
Too cold to be outdoors? Come relax at Java Junction and the Connector lounge with a hot cup of coffee/tea and snack. This is also a good place to meet up with your grandchild.
Train Underpass Mural
Tunnel under the train tracks east of Good Library
Be sure to walk through and check out the colorful mural that brightens this space designed by alumnus, Noah Yoder '10.
5 – 6:30 p.m.
Dinner, Westlawn Dining Hall or Downtown Goshen
Want to spend more time with your grandchild? Meals can be purchased at the dining hall during dinner hours. Cash or credit card only ($8.87 plus tax). Or, your grandchild may prefer going out to dinner and taking in First Fridays, a popular community event in downtown Goshen. Ask them!
7:30 p.m.
GC Choirs: Fall Choral Concert, Music Center's Sauder Concert Hall
Dr. Deb Brubaker, Director; Dr. Scott Hochstetler, Director
No charge when you pre-register; pick up tickets at morning check-in.
8 p.m.
Bethel College Classic: Men's basketball, GC vs. Calumet
Bethel College, Wiekamp Athletics Center 1001 Bethel Circle, Mishawaka, IN 46545 
Saturday, Nov. 8
(Optional, if you are still in town)
1 p.m.
Bethel College Classic: Men's basketball, GC vs. Lawrence Tech
Bethel College, Wiekamp Athletics Center 1001 Bethel Circle, Mishawaka, IN 46545
3 p.m.
Volleyball: GC vs. Indiana University-South Bend, Recreation-Fitness Center
Women's and men's soccer may be in conference tournament play; time and place to be announced.
Lodging
Blocks of rooms have been held at Holiday Inn Express & Suites. To get the group rate, identify yourself as guest of Goshen College Grandparents Day, and use group code: GGC 

Holiday Inn: $89.99 double occupancy + tax. Call 574-535-9200
Make your lodging reservations by Oct. 23, when rooms will be released to the public. 
To Register For Grandparents Day
Please discuss your plans with your student/grandchild AHEAD OF TIME, since some students' schedules might limit the amount of time they can spend with you.
$15 per person for Friday campus events including breakfast and lunch. Click here to register online, or call 574-535-7564 to register by phone by October 29. Click here to see the brochure.