From and For Our Schools
Right now, teachers from underrepresented racial and ethnic groups account for ten percent or fewer teachers in Elkhart County partner districts. This creates a significant gap in the ratio of racially/ethnically diverse students and the presence of teachers from similar backgrounds in their classrooms. Research has shown that all students, and especially racially/ethnically diverse students, experience improved academic achievement when this gap is reduced.
You can be a part of closing the gap and be an incredibly valuable role model for students across Elkhart County by enrolling in Goshen College's Teach Elkhart County (Teach EC) program!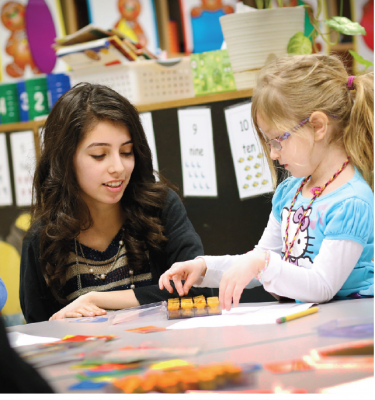 Teach EC is open to racially/ethnically diverse students from Elkhart County who want to become teachers in Elkhart, Concord, Goshen and Bethany districts/schools. During the four-year college program, you'll be trained to become a skilled and highly effective teacher. You'll also receive extensive support through faculty mentorship and by being in a cohort of fellow students in the program. Plus, you'll have the highly rewarding opportunity to give back to the community that you grew up in and receive several exclusive benefits (see more details below or read this article about the program).
Program Features & Requirements
Guaranteed Interview & Priority Job Placement
Four Elkhart County districts/schools (Concord, Elkhart, Goshen, and Bethany), in addition to Goshen College, will assist you in finding a job upon graduation in an area school.
Continuous Support
Teach EC provides academic support and personalized guidance in your college decision process, during your time at GC and into your first year of teaching, through one-on-one coaching — 6-7 years of relationships and support.
Exclusive Bonuses
As a Teach EC graduate, you will receive a hiring bonus in year 1 ($3,000), incentives in years 2 and 3 ($1,000 per year) and leadership opportunities as a Teach EC Ambassador.
College & Career Success
Your Teach EC peers, mentor, education faculty, and GC teacher grads will provide a community that is invested in you and your journey toward becoming a teacher.
Access to Excellent Facilities
As a Goshen College Education student, you will have the opportunity to take full advantage of Goshen College's facilities. Among these are the laboratory kindergarten, Merry Lea Environmental Learning Center and Goshen College's Curriculum Library, which contains textbooks, educational kits, curriculum guides (K-12) and peace education materials (K-12).
Program Requirements
To be eligible for the Teach EC program, you must be from Elkhart County and intend to teach in Elkhart county, identify as a racially/ethnically diverse student and be interested in attending Goshen College.
Stats
40%
of GC attendees are the first in their family to attend college
41%
of GC students are racial/ethnic minority students or from outside the U.S.
100%
of education faculty have had K-12 classroom teaching experience
100%
of education alumni say their undergraduate education prepared them for their teaching career
100%
of 2016-17 graduates who sought teaching jobs were employed right after graduation
99%
of student teachers who finish the education program pass qualifying test for licensure
Request Information
Interested in learning more about Teach EC? Contact:
Education Faculty & Staff