Football, Environmental Economics, & Marine Biology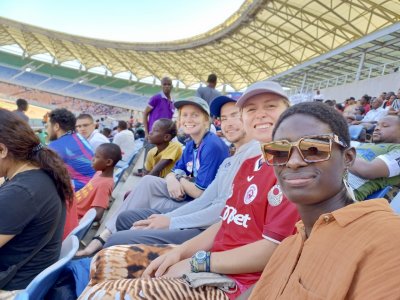 Wed. February 8th, 2023
Sunday included attendance at church in the morning followed by a quick lunch so we could get to the national stadium for an international friendly between Simba – one of the premier TZ professional club teams – against Sudan's Al Hilal. It was a relaxing afternoon, with an exciting end to the match with the home team scoring a needed goal to tie the game.
Monday morning we celebrated Billy's birthday!  Students presented him a card and we had samosas and mandazis during break. The highlights included a serenade by the Swahili teachers and then Billy performed one of his own original songs! What talent we have on this team.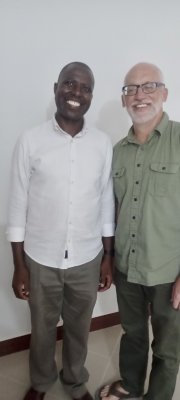 In the afternoon we received a fantastic lecture by Dr. Mkama Manyama (host family in 2011, 2014 and 2017!). His talk was on environmental economics (in which he received his PhD) and the discussion focused on the influence of foreign direct investment on Tanzania's current economy. We were challenged to consider how the investment patterns from external entities  may continue to perpetuate some of the same environmental injustices we explored during the colonial era. (This led to an engaged and vigorous discussion during unit house this week!)
On Tuesday we zoomed with Wildlife Conservation Society scientists working in Zanzibar on research aimed at conserving and maintaining marine biology resources, while also providing livelihoods for local fishers. Led by Dr. Jean Mensa, the team presented data on sharks and rays, benthic habitat cover (seagrasses and corals), and an innovative local management program helping local fisher communities set up monitoring and educational initiatives in their communities aimed at creating longterm sustainable use of their marine resources.
We consistently remind ourselves of the privilege it is to be here. As we contemplate the remaining 10 days in Dar es Salaam, we are again thankful to our host families and the broader community which has made us feel so at home.
The gallery below were taken by students,  the first dozen were taken by Adrian Delgadillo and the last three were taken by Annika Fisher.